UKGBC launches new Solutions Library to enable sustainable buildings
UKGBC launches new Solutions Library designed to tackle shared sustainability challenges within the built environment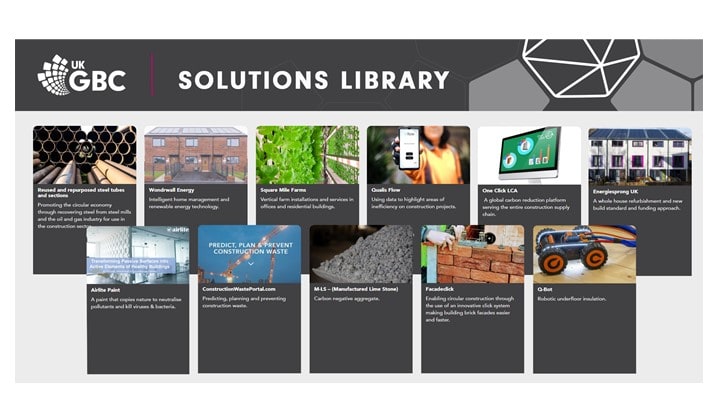 The UK Green Building Council (UKGBC) has today launched a new Solutions Library designed to address shared sustainability challenges within the property and construction sector and enhance collaboration between innovators and corporates.
Many of UKGBC's members have already set ambitious targets relating to their environmental and social impact, and all business members are now required to have a corporate commitment to climate action. Now UKGBC is focusing its work on enabling its members and the industry to achieve those targets. Addressing the climate and ecological crises requires an innovative and collaborative approach to identifying specific challenges through to creating, sourcing, and implementing solutions.
The new Solutions Library offers practical and commercially viable solutions and case studies to help address common sustainability challenges across the sector. It has been launched following the success of a recent pilot solution crowdsourcing project and as part of a new wider 'Solutions' section of UKGBC's website. The new section of the website also lists more than thirty innovative start-ups that are already part of the UKGBC membership, plus interviews with many of them to explore their innovation journey within the built environment.
All solutions need a problem to solve, and so this new section of UKGBC's website allows members to submit challenges that they would like help with. UKGBC will then use its unique convening power to crowdsource and collaborate to identify solutions to those challenges.
UKGBC are now calling on all industry professionals to submit further solutions and case studies; for members to propose new challenges on which to collaborate; and, for more innovative start-ups to become members and work together to scale up the solutions to industry's biggest challenges.
Alastair Mant, Director of Business Transformation at UKGBC:
"The launch of the new Solution webpages is an exciting next step in enabling our members to meet their ambitious commitments on issues such as net-zero carbon, biodiversity, and social value. Over the last year the number of Innovative Start-Ups within our membership has nearly tripled and we hope by ramping up our engagement with the start-up community we will continue to bridge the gap between innovators and corporates and help scale up more of the practical solutions our industry is calling out for. We are therefore asking more innovative start-ups to join us and for everyone to send us solutions so that we can accelerate the necessary changes in how we design, construct, and operate built assets."
-ENDS-
All of UKGBC's Solutions-related webpages can be accessed below:
Further details of UKGBC's pilot solution crowdsourcing project can be found here.
Further details on new requirements for UKGBC members can be found here.