UKGBC announces 2019 Future Leaders
The UK Green Building Council (UKGBC) has today announced the 2019 cohort of its prestigious Future Leaders programme.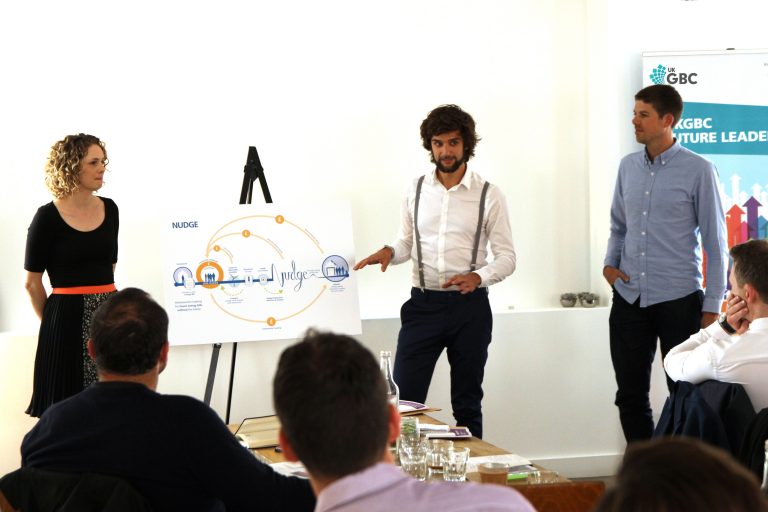 Now in its sixth year, the 5-month programme brings together high-potential professionals from across the built environment industry to take part in a unique programme of leadership and innovation. It kicks off with a two-day residential later this month, followed by a series of innovation workshops, and will culminate in an evening of presentations to industry leaders in June. The programme takes participants on a journey to develop skills in personal leadership, collaborative thinking, business model development, innovation and storytelling.
Future Leaders provides a forum for tomorrow's leaders to grapple with the most critical issues that the sector will face in the future, and challenges participants to work collaboratively to address these. Graduates from the programme are able to join the exclusive Future Leaders alumni network, which brings opportunities for continued professional development and access to a growing number of thought-leaders right across the built environment value chain.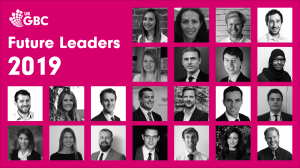 Our 2019 Future Leaders:
Adele Carey, Mechanical & Sustainability Engineer, Arup
Eleni Soulti, Senior Consultant, BRE
Fergus Anderson, Senior Consultant, BuroHappold
James Davies, Senior Sustainability Officer, Camden Council
Emma Warden, CSR Manager, Canary Wharf Group
Henry Gilks, Consultant, Carbon Credentials
Harrison Bowers, Senior Sustainability Consultant, CBRE
Nada Issa, Senior Mechanical Engineer, chapmanbdsp
James Scott, Senior Portfolio and Investment Analyst, The Crown Estate
Charlotte Mercer, Senior Engineer, Cundall
David Semple, Senior Development Manager, Grosvenor
Craig Williamson, Senior Project Manager, Heathrow
James Adams, Construction Project Manager, Igloo
Connor McCauley, Associate Director, Sustainability, JLL
Henry Powell, Assistant Environment Manager, Landsec
Monique Goldman, Investment Manager, Lendlease
Jessica Binks, Senior Sustainability Consultant, Mott MacDonald
Will Wilson, Commercial Manager, Sir Robert MᶜAlpine
Derek Wilson, Senior Sustainable Development Manager, Transport for London
Oliver Morris, Senior Energy & Sustainability Consultant, TFT
Sophia Cox, Sustainability Advisor, UKGBC
James Willcox, Principal Sustainable Development Lead, Willmott Dixon
Elfrida Hamilton-Russell, Head of Learning and Leadership at UKGBC, said:
"We are delighted to welcome 22 of the built environment's brightest stars to Future Leaders 2019. In the wake of the IPCC's Special Report on Global Warming of 1.5 °C, there has never been a more urgent time to invest in the development of forward-thinking individuals who can reimagine and transform our built environment for the better.

"The new cohort brings an incredible breadth of skills and experience and we look forward to nurturing their talent through this unique programme of leadership and innovation."
UKGBC's Future Leaders programme is delivered in collaboration with FutureMakers.
-ENDS-
Notes to editors
A photo montage of the 2019 UKGBC Future Leaders cohort is available here.
More information on the UKGBC Future Leaders programme is available here.