Elmsbrook
A 393 homes residential development, addressing both regulated and unregulated energy.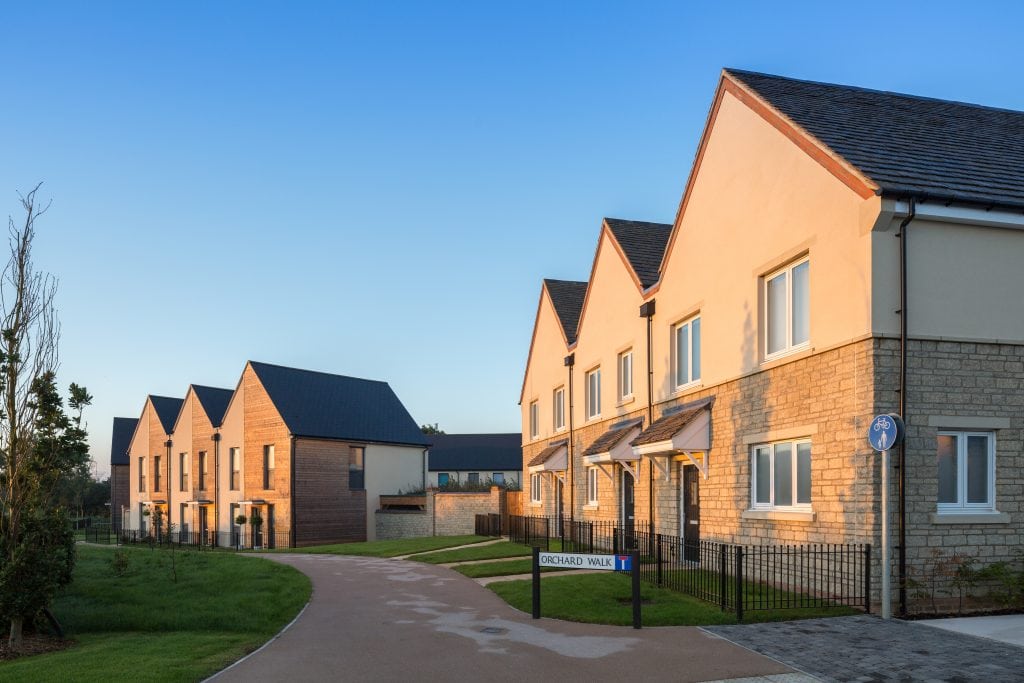 Highlights
Residents used 28% less electricity than the Bicester average, saving 1189 KWh of electricity during the year.
Elmsbrook saved the UK 300 tonnes of carbon emissions in 2017/18 when compared with a standard build scheme.
Residents saved an average of £400 in energy bills compared to their Bicester neighbours.
Homes are future proofed against climate change designed to prevent overheating based on 2050 weather set.
40% green space is provided to achieve a net biodiversity gain and enable healthy outdoor lifestyles.
One of 11 One Planet Community schemes worldwide that has 10 guiding principles to achieve sustainable living within the earth's ecological limits.
Elmsbrook households had an average carbon footprint of 120kg this year, 95% lower than the national average (2447kg)
In 2017/18 Elmsbrook exported 276,291 KWh more electricity than it imported from the grid.
Homes are built to Code for Sustainable Homes Level 5
Zero site waste is sent to landfill during construction, including spill from excavations and construction waste.
UK's first new build HeartSafe community with automated External Defibrillators installed 400m from each home.
Approaches Used
Instead of a boiler in every home, heating and hot water comes from a gas-fired Combined Heat and Power district heating system. Delivered by SSE, the system generates electricity which is exported back to the grid. The heat-waste by-product is used to provide heating and hot water to all homes via a network of pipes.
Each home and business will have solar photovoltaic panels averaging 34m2 per property generating a net energy gain.
Rainwater-harvesting reducing water consumption from 150 litres to 80 litres per person per day.
Super high insulation levels to achieve a fabric first approach. Triple glazed windows and doors.
High rated A++ appliances to reduce energy and water consumption including LED lighting.
Rented properties have energy-efficient heat recovery ventilation to capture and re-use escaping heat.
Every material used is assessed on the amount of embedded carbon it contains and we compared this with other similar products to ensure where possible we are using the most sustainable products available. An example would be the type of concrete mix used and changing the mix to include one with more recycled aggregate.
The amount of carbon used during construction has been reduced by 30% per home compared to a traditional build through the embodied carbon of individual materials (the carbon content of raw materials), the manufacturing process and local sourcing.
To increase cost-effectiveness, speed of construction and to reduce waste, a timber-frame SIP's panelised system has been used instead of brick and block construction, achieving increased air tightness and energy efficiency.
Real time energy and travel monitoring in every home via an app that displays energy generation and consumption, live bus departures, home setting demonstration videos and community information.
Modal shift in travel patterns to encourage non-car use to reduce petrol/diesel car dependence from 67% to 50% by providing alternative sustainable transport options.
Elmsbrook has a pure electric car club to provide residents with a sustainable travel.
79% of work packages are let to companies within a 50 mile radius of the development on phase 1, 23% local labour on site with the creation and continuation of 8 apprenticeships to date.