Energy price hike: Time for an emergency support and long-term fix
UKGBC's Head of Policy and Public Affairs, Louise Hutchins responds to the latest Ofgem price cap announcement and the growing pressure on government to tackle Britain's leaky homes.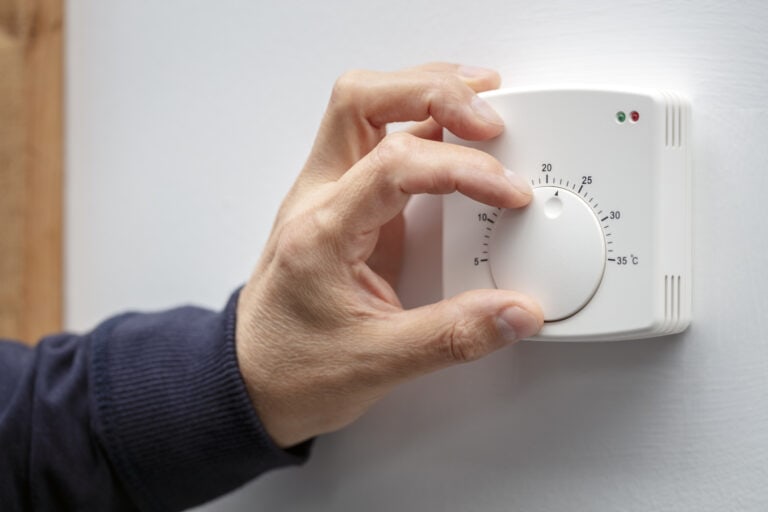 Ofgem's latest energy price spike will plunge millions of households into a fuel poverty crisis this winter. Soaring energy prices are driving the biggest fall in living standards in memory. Clearly, emergency Government action to prevent this can't wait any longer. But global gas prices could stay high for years to come. So, this needs to go hand in hand with a long-term plan.
With ever more expensive heat leaking out of every poorly insulated wall, roof, window and door across the country, a national roll out of home upgrades has never been more urgent. Reducing energy use across households will bring bills down – not just for one winter, but year on year. The cheapest energy is the energy we don't use.
Millions of homes are still without cavity wall insulation and loft insulation. Over 15 million UK households live in a home with a very poor Energy Performance Rating (EPC) of D or below and will pay an 'inefficiency penalty' of £916 more per year for inadequate heating than households living in a home rated EPC C or better. 
Seize the moment
This energy crisis must be the wake-up call that finally drives home the need to make energy efficiency and a shift from expensive fossil fuels a national priority. This is critical in order to insulate households, businesses, our schools, hospitals and the wider economy from gas price shocks, but also to slash the UK's carbon emissions.
Our homes are responsible for 1 in 6 tonnes of our national carbon output and we just can't hit our climate targets without upgrading the vast majority of homes over the coming years. Insulating and appropriately ventilating our homes will also help protect us against the kind of heatwaves that stunned us all this summer.
But progress is glacial. The government's official advisors the Climate Change Committee recently warned that a "shocking" failure to insulate homes is one of the key reasons the UK is set to miss the country's flagship net zero target. Just 150,000 homes were supported by Government schemes in 2021.
The pandemic shows that our government can respond quickly and at scale. This is a moment to roll out support to some of the most at–need households with emergency quick insulation. It is also the time to start a national conversation and engage all households and industry on the issue.
A far-sighted new prime minister would take the initiative and announce a 10-year programme of home upgrades starting with those most in need. It would capture the national mood and inspire millions more to take the plunge and invest in rooftop solar panels or a heat pump, stimulating economic growth across the country.
Consistently putting this agenda at the forefront of the new Government's national recovery plan would begin to restore confidence in a retrofit industry decimated by stop start Government schemes so that it can began to skill up and scale up again. Supporting local authorities to coordinate efforts in local areas street by street would help build up strong supply chains, maximise uptake through neighbour recommendations and create efficiencies of scale.
This national effort will need tens of thousands of skilled installers, fitters, manufacturers, engineers, architects and more. It will boost the national economy at a time when it is under such strain, particularly in the North and parts most badly affected by poor quality housing and colder weather. It would give some real substance to the levelling up agenda.
All eyes are on the future No 10
The need for emergency Government action to protect households now is indisputable. But billions in gas bill bail outs year after year make no sense when much of it is wasted. It's time for the next PM to get a grip on the situation with a long-term fix.