Event Dates:

8 Nov, 2023, 14:00-17:30
In person
London, Bristol, Manchester, Birmingham and Scotland (city TBC)
Collaboration Café – Climate Resilience
London, Bristol, Manchester, Birmingham and Scotland hosted event series for UKGBC members to share insights about the practicalities, implications, and challenges of creating climate resilient business.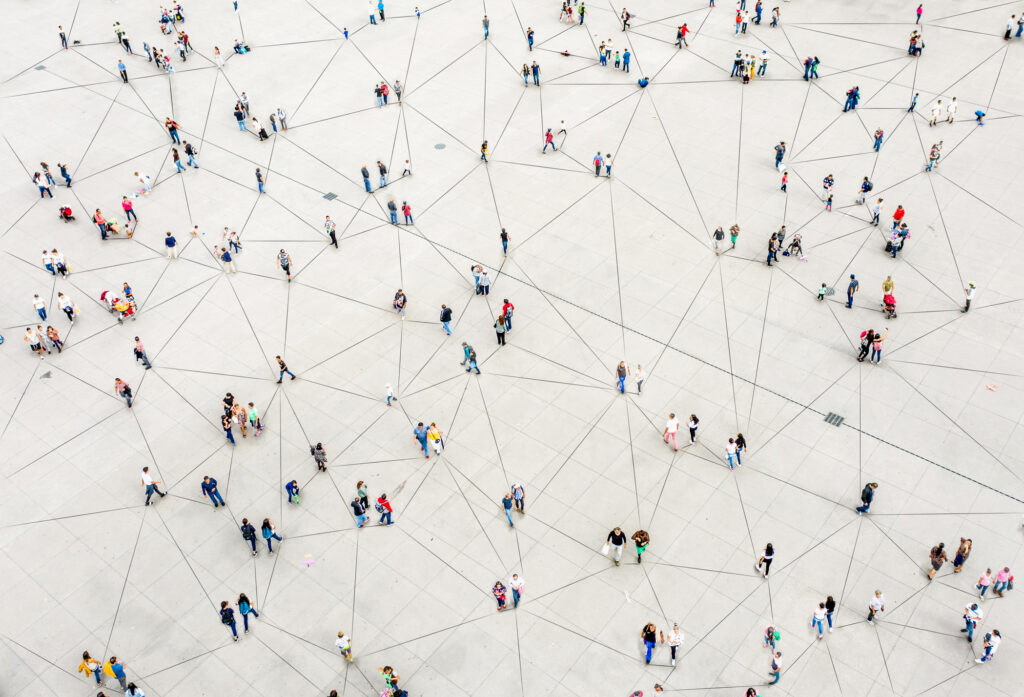 UKGBC has launched a second series of Collaboration Café events upon member requests to continue hosting opportunities for open knowledge sharing and collaboration. This time the Cafes will focus on climate Resilience within the industry, as part of the bigger goals of our Climate Resilience and Nature Programme, convening built environment organisations in person and bi-monthly to share insights about the practicalities, implications, and challenges of creating climate resilient business and built environment.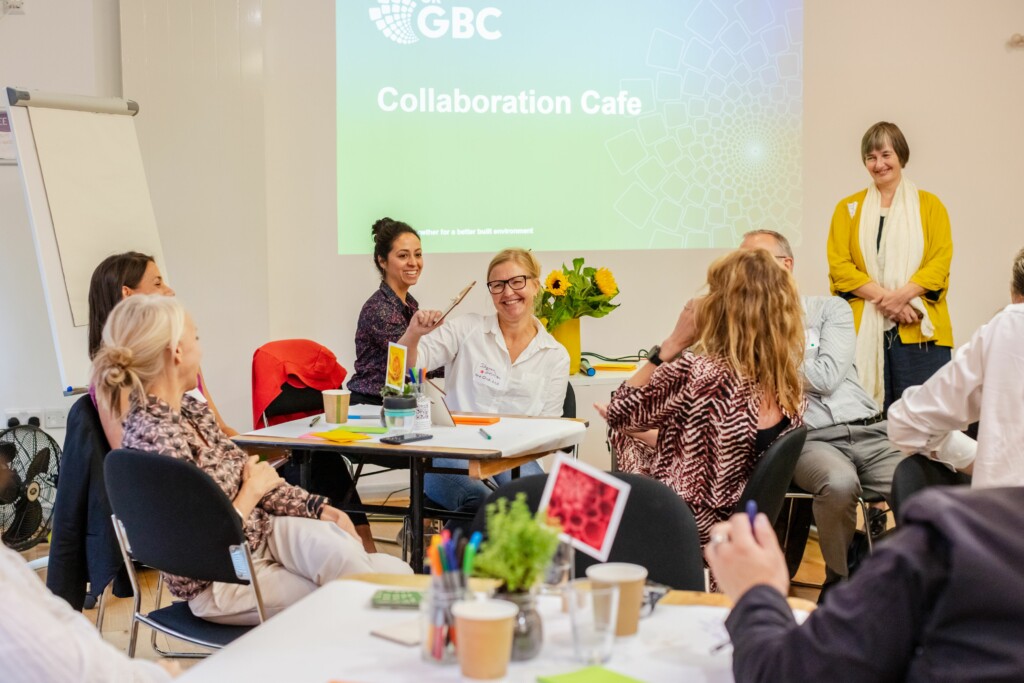 This Collaboration Cafés series will bring together groups of UKGBC members across our Local Area Networks, with the view to hear from the wider geographical scope of members within the UK, while convening a diverse multidisciplinary group.
Collaboration Cafés will be held bi-monthly and are open to UKGBC's members only. For more information on becoming a UKGBC member, please see this page.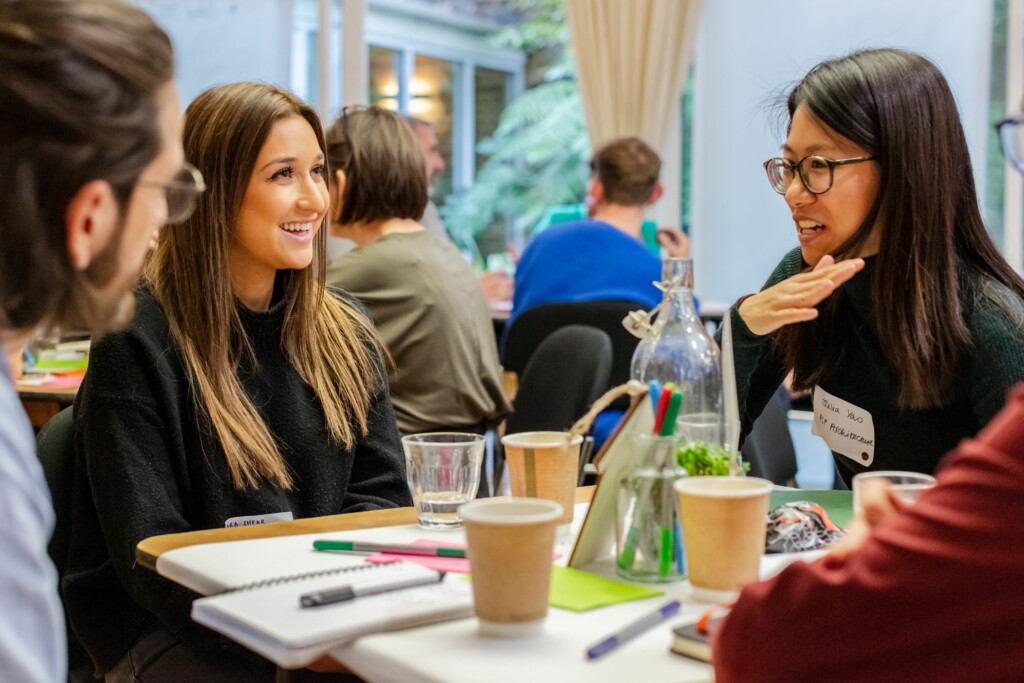 Upcoming Collaboration Cafés:
What is a Collaboration Café?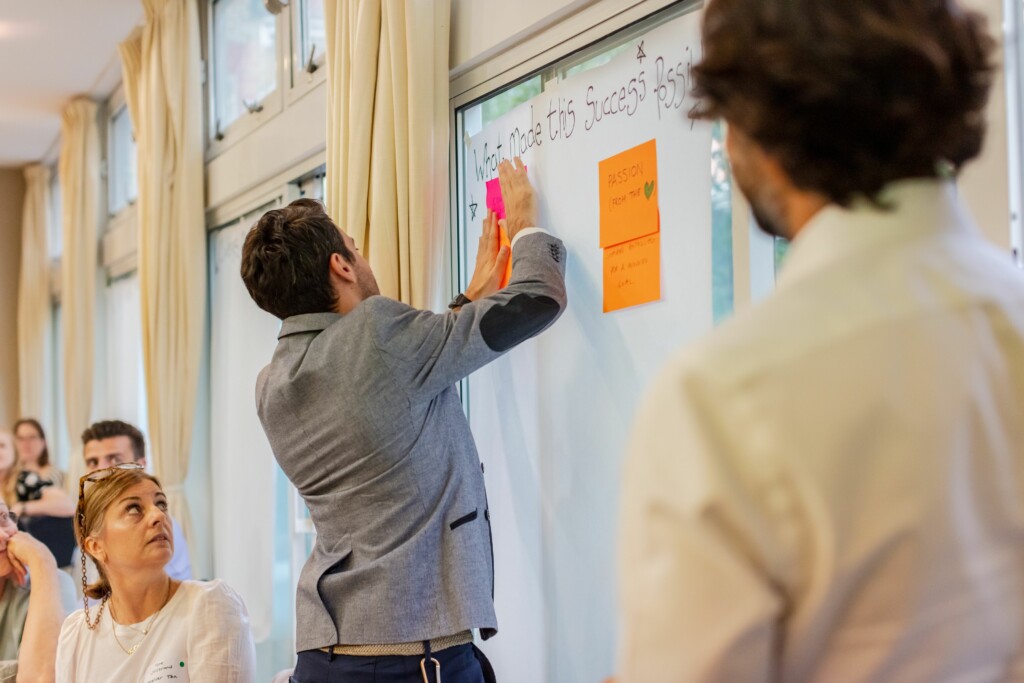 Collaboration Cafés will follow the World Café Method , a global movement creating collaborative dialogue around questions that matter. They offer an informal and uncompetitive space for UKGBC members to share insights, synthesise lessons and tackle shared challenges they face at the organisational level.
See how previous Collaboration Cafes looked like in this UKGBC post.
Who should attend?
This event is for UKGBC members based in respective regions only – up to two attendees are invited to register per organisation, with places limited on a 'first come, first served' basis. If you are not a member within the region, UKGBC reserves the right to politely decline your registration. All levels of knowledge and experience on the topic of resilience are welcome to attend.
If you have doubts with regards to the best café to attend, contact events@ukgbc.org.
Why are we focusing on Resilience for the built environment?
The climatic and environmental crises are the largest and interlinked threat to modern human existence, caused by our activities and actions. The impact inflicted is resulting in widespread and rapid and extreme weather events and global climatic changes in every region across the globe. For the built environment, this will have a consequential impact on our buildings, infrastructure, environment and way of life.
Climate action failure, extreme weather events and biodiversity loss rank as the three most potentially severe risks for humankind for the next decade. It is of the essence that built environment organisations take a proactive approach towards creating a resilient world, tapping into the leading role already demonstrated to support the climatic crises.
Therefore, we are calling all our members to support our ambition that "by 2030, all buildings and infrastructure will, throughout their lifetime, be climate-resilient and maximise environmental net gains, through the prioritisation of Nature-based Solutions", and join us to this collaborative discussion and swift action.
How do the Collaboration Cafes fit in the bigger picture within the industry?
The actions needed to build a resilient world start by raising awareness and knowledge on this aspect among organisations and individuals within the built environment. Sharing knowledge and tapping into the large diversity of experiences and expertise will ultimately enable finding the required collaborative solutions and interlinked pathways to establish the best next steps. The Collaboration Cafes will support just that, besides collaboratively finding the best descriptions to how resilience looks like for the built environment, it will facilitate raising awareness, sharing knowledge, and open the door to possibilities.
Moreover, this series of Collaboration Café on Resilience is part of the principal piece of research and engagement work that falls within UKGBC's Climate Resilience and Nature Programme. We will use the learnings from the Collaboration Cafes as the baseline of knowledge, interest, challenges and gaps to progress the industry's work. The learnings and insights collected from the Collaboration Cafes will be used to shape key content for UKGBC's upcoming Resilience Roadmap project.
More about the Resilience Roadmap:
This project aims to ramp up climate adaptation action in the UK built environment by developing science-driven, industry-wide targets for climate resilience, alongside key policies for Government and actions for built environment stakeholders. More details on this project to come.
Who is this event for?
Interested in building new connections across the industry
Meet others from across the built environment, make connections and share knowledge.