Working Together to go Beyond Tackling Carbon
Last month UKGBC held the first of our Collaboration Cafés, and we wanted to share the highlights of this successful event, and how we think this can become the go-to gathering for accelerating the best practices within the built environment sector. 
Right now, the time is right for the built environment to embrace meaningful climate action. Our sector is responsible for 25% of the UK's carbon emissions, and increasingly the realities of climate crisis have been difficult to ignore with extreme weather events like drought. The challenge the sector faces is vast – but it's a challenge we can overcome. However, the sector can only do this by sharing knowledge, being flexible, adapting best practices, collaborating and keeping in mind that climate change mitigation goes beyond carbon emissions. Therefore, at UKGBC we asked ourselves, how can we facilitate this?
As we wrestled with this question, a clear parameter came into the focus: We must create a space with a level playing-field, where members can work together on the problems they're all facing. In that spirit, the Collaboration Café was born.
Based on the World Café method, the Collaboration Cafés are designed to bring awareness around their business' needs and key steps for a successful net zero journey. At the same time, the safe space created at the café and explorative questions allows to voice challenges, and solutions, while building a support network of organisations. Essentially, the cafés aim to be an innovative, inspirational and transformative space. We want members to leave these gatherings feeling they have a better understanding of what they must do next and be aware of key relationships they can build moving forward on their sustainability journey.
Together for a first Café
To kick off the monthly café's we started by inviting our designer and technical advisor members to meet in London. As the 41 members started to arrive, we were excited to facilitate face-to-face interaction, in small groups, so that conversation could be as candid, and collaborative, as possible.
Just like we aimed, the café offered an informal and uncompetitive space for UKGBC members to share insights, synthesise lessons and tackle shared challenges they face at the organisational level. At the café we addressed questions around successes from different perspectives, as well as what are the key next steps that felt were a priority on the road to net zero and beyond. Topics like the Race to Zero, and sustainability commitments, were key areas of focus, as well as how we might continue to work towards achieving them. We were pleased to have the outside expertise of a World Café Method consultant to offer structure, and guidance, as we all dived in to this exciting, new format.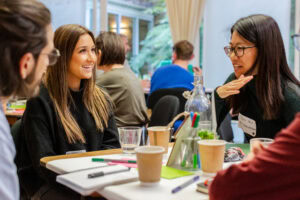 What our participating members have to say 
"I came here with one expectation and I am leaving with another. I came here thinking I was going to talk about detailed work and the solutions I need to bring to my clients, and I quickly learned that this was going to be about our organisations… and this has been super helpful. The conversations made me face the detail of what I do as an individual and what we do as an organisation are linked; what we do for our companies we do for ourselves. I am taking away solutions and actions that I am going to do later today and tomorrow."
Elina Gregoriou, Grigoriou Interiors Ltd
"During the Café, I've talked to people within organisations of 20 people, 200 people and 20,000 people, and I have noticed that we all have the same issues, we all have the same challenges. We may be using different ideas and topics to express ourselves, but fundamentally we all are all on the same path. So for me, it is all being here, sharing and collaborating freely, and that's what stands out most to me about the Collaboration Café today."
Peter Anderson, Troup, Bywaters + Anders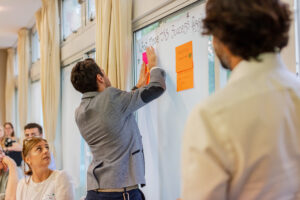 So, what did we learn?
For UKGBC, this was not just an exciting opportunity to bring our members together and facilitate their learnings – but to also learn ourselves.
We were excited to see that, as we hoped, face-to-face conversations, facilitated in an open and non-judgemental way, open doors to the most insightful conversations. They allowed knowledge sharing, learning and community building in a way that our industry doesn't normally experience. From our first session, it was felt that the Collaboration Café was the ideal forum for continuing this experience moving forward.
It was brilliant to be reminded that UKGBC has the power to convene the most enthusiastic and authentic leaders, as well as facilitating knowledge sharing. However, the magnificent work is done by each one of these individuals who show up for these opportunities.
Our attendees did recognise that the needs for upskilling and knowledge in the road to net zero is large, but that the same members who are worried about these issues have the answers and solutions as a collective. Additionally, it was felt that bringing these events to different regions of the UK outside of London is a need and will enable the wider network; we cannot tackle the challenges in our path if we don't have everyone, from a range of places and backgrounds, working together.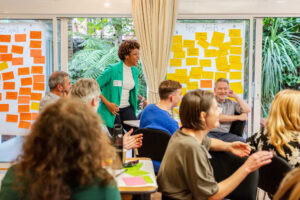 Want to Get Involved?
Moving forward, we're planning to bring each subsector together twice a year, allowing for a continued, blossoming conversation on the sustainability challenge. Our next Café will be for the Finance sector on the 27th October, with the following taking place on 24th November for Developers, Owners and Occupiers. In the new year, there are three more sessions planned: one in January for Contractors, another in February for Construction Products & Materials Manufacturers and finally, a session in March for Real Estate Agents & Services. In April 2023 we'll circle back again, so that there will be another session for our designers and technical advisor members.