The Entopia Building
Generating savings in whole life carbon emissions through tactical material reuse during refurbishment and the continued use of original building structures.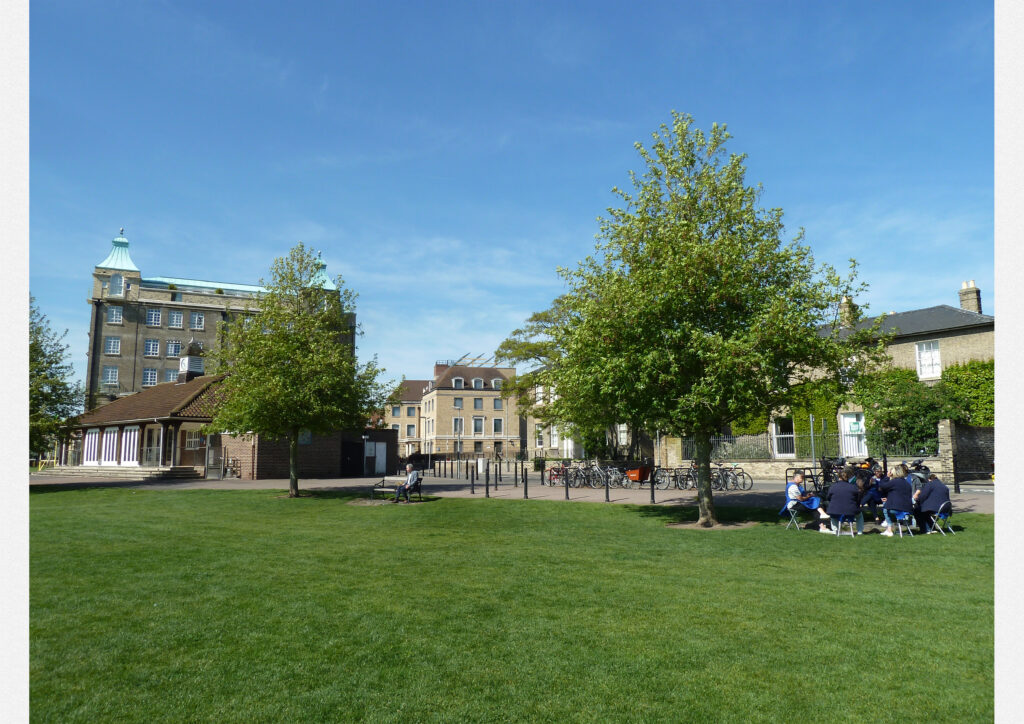 Key Sustainability Objectives/ Outcomes
On track for WELL Gold rating, BREEAM Outstanding, EnerPHit Classic.
Establishing new confidence in the university to deliver net zero carbon buildings.
Sharing materials onward through CollectEco created a positive socioeconomic impact with £100,255 worth of furniture shared onwards which meant 21,648kgCO2e was avoided by not buying new materials.
Notable Approaches And Solutions
Referencing SBTs that local authorities have signed up for: The council conservation team wanted to fully preserve Georgian-style windows, limiting natural light and operational energy efficiency; ongoing discussions to ensure the windows could be changed which was achieved in the end as Cambridge had signed up to science-based targets.
Finding examples to show clients – There were hesitations around reusing the raised access flooring and exposing it as a finish, which could save a lot of carbon. The client was shown a similar example and they approved the flooring.
Communication was key: Understanding where price increases might come from and explaining to the client why prices might be higher so they can prepare can help prevent unexpected price increases; this prevented needless risk price increasing and the very detailed programme also allowed them to understand where costs come from.
Early engagement: The contractors were engaged from RIBA Stage 3 under a pre-construction services agreement. Difficulties, longer programmes, etc. were more easily managed.
At RIBA Stage 1, obtain a second opinion on the cost estimations: The quantity surveyors told them it would be a 25% premium, but the team agreed at stage 3 that this was unlikely to be the case. The overall cost uplift is estimated at about 8%. These misunderstandings come from limited benchmarks as there are not enough projects being done to inform comparison, particularly for Stage 1 (highly hypothetical data at Stage 1).
Lessons Learnt
Trade-offs with operational energy reduction: Some tensions between making the building as energy efficient as possible and the aesthetics as it is situated in a conservation area, but the savings in operational energy from the fabric first approach are vast and the build is currently on track to cost marginally more than a standard fit out.
WLC calculation: Lack of data around the carbon contained in some products (especially when looking at MEP services), the calculation methodology itself, and understanding which assumptions to use within the calculations lead to a peer review process to ensure that everything had been accounted for correctly. Some ambiguity in the calculation of module A5; Entopia took the approach of calculating material wastage for each material/assembly based on WRAP data, as well as adding an overall site activities allowance, based on project value (RICS 1400kgCO2e/£100k).
Programme time: The lack of full surveys and opening up meant that elements of the construction, such as the extent of the precast planks, were only discovered once on site. The concrete columns were in worse condition than anticipated, and some steel ones were encased in concrete. Time added to programme due to redesign from not having the original plans, which could have been shorter if the building had been opened up earlier. This is difficult to do as the client does not want to open the building if they do not know if they can afford the refurbishment.
Harmful materials: Asbestos, delamination, leaching of products through the sonaspray, waterproofing issue, exposed rebar which had to be covered due to fire-safe columns, beams were in poor condition –embodied carbon added to get these aspects up to standard.
Limited materials available – niche suppliers, which was a risk to ISG (contractors). Some tended to be smaller manufacturers which meant it could be difficult to get the quantities needed for this job.