UKGBC study reveals significant carbon reductions can be achieved across residential developments at little cost
The UK Green Building Council (UKGBC) has today published a study demonstrating how housing developers can achieve a 20% embodied carbon reduction across low-rise residential developments through simple masterplan-level design interventions, which are cost-effective and achievable today.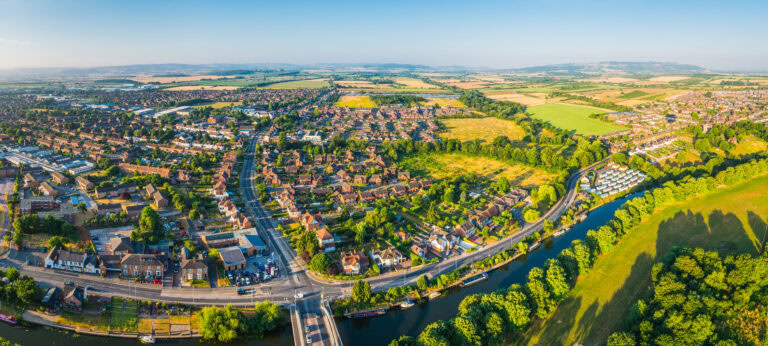 The UK government has committed to reach net zero emissions by 2050 and, alongside this, build 300,000 new homes a year by the mid-2020s. Given that existing homes are already responsible for 16% of the UK's greenhouse gas emissions, the residential sector has a critical role to play to slash emissions and help achieve net zero ambitions.
UKGBC's new report, titled 'Building the Case for Net Zero: A case study for low carbon residential developments', examines the design and cost implications of minimising embodied carbon for a real-world, low-rise residential scheme in Southwest Cambridgeshire. It shares valuable insight into the role masterplanning – such as roads, utilities and energy infrastructure – can play in the wider transition to net zero' an area which many developers often overlook, resulting in vast amounts of carbon being minimised.
Key findings revealed by the study include:
Overall, a 20.3% embodied carbon reduction was achieved between the 'baseline' and 'stretch' design scenarios, with a negligible impact on capital costs (0.6% increase).

1

A range of simple and cost-effective interventions for reducing embodied carbon can be implemented today, including: minimising parking area to embrace the shift towards vehicle sharing, the use of swales to reduce stormwater drainage; and

switching from asphalt to low carbon, permeable paving.

The widescale delivery of carbon reductions across residential developments can only be achieved through

more consistent measurement and reporting of embodied carbon.

A culture shift is required away from car ownership and towards the adoption of active travel methods to reduce embodied carbon from grey infrastructure – roads and parking – and transport emissions, and the future of travel should become a key consideration for residential developers.

Simple nature-based solutions can be incorporated within masterplanning to enhance the climate resilience of homes, such as replacing hard surfaces with soft landscaping and trees, which can reduce embodied carbon while delivering increased biodiversity net gain and a reduction in flood risks

New developments can play a vital role in improving residents' health and wellbeing as well as create a sense of community and social ties through the wider use of communal gardens and access to nature and green spaces.
UKGBC's Whole Life Carbon Roadmap indicates impact of embodied carbon is set to increase and will form over half of built environment emissions by 2035. Despite this huge opportunity to reduce carbon from the built environment, embodied carbon emissions are currently unregulated, with measurement and mitigation within construction typically voluntary. Whilst recent changes to the planning system in England have encouraged the consideration of embodied carbon in relation to planning through the use of design codes, industry needs further clarity on how it can be measured and mitigated. This study shines a spotlight on the important role of planning and masterplanning in delivering a holistic approach to sustainability, and supports the case for government to take ambitious steps to strengthen sustainability requirements through the planning system.
UKGBC's new resource is intended to be used by local authorities, investors, developers and housebuilders, as well as stakeholders across the value chain seeking to better understand how to deliver new low carbon residential developments. It is also relevant to national policy makers, as – at the time of writing – the Government prepares the upcoming Planning Bill, and the Scottish Government consults on its National Planning Framework 4, and this study showcases what is possible through masterplanning.
UKGBC's Head of Climate Action, Yetunde Abdul, said:
"Each tonne of carbon from the built environment must be measured and mitigated in order for the UK's net zero target to remain within reach. Embodied carbon from masterplan works is no exception to this, yet it is often an oversight by developers leaving large amounts of carbon unchecked and ill-considered. This study provides evidence that considerable amounts of embodied carbon can be slashed through simple design interventions and at little capital cost to developers. Through gaining insight into the impacts of embodied carbon, this study also uncovers opportunities to improve the masterplan holistically, including climate resilience, biodiversity net gain and creating better amenities for residents." 
Pauline Martin, Sustainability Manager at Lendlease said:
"Critical elements of infrastructure, which contribute a significant portion to a project's embodied carbon footprint have often been overlooked to date. We welcome this publication from the UKGBC outlining the importance of incorporating low embodied carbon design options at the early master planning phase. Further to this work, we look forward to UKGBC's forthcoming work specifically focused on the cost of delivering net zero carbon homes." 
Chris Brown, Executive Chair and Founder at igloo Regeneration said:
"Whilst the Future Homes Standard (2025) and grid decarbonisation (2035) will help eliminate operational carbon from new homes, two key challenges remain: embodied carbon and the electricity grid's capacity to cope with the heat pump and EV charging load.
Echoing the Home of 2030 winning entries, this report helps developers to deliver lower carbon developments through its focus on the upfront carbon of the masterplan works, suggesting helpful, readily available solutions including landscaped swales, active travel with fewer cars and more efficient roads and parking."
The work on this study has been made possible by the generous support of our Advancing Net Zero partners: