Part of:
Inside Innovation
Construction Carbon
Gilbert Lennox-King, Founder/CEO of Construction Carbon, speaks to UKGBC about what innovation means to him and how they're helping to build a better built environment.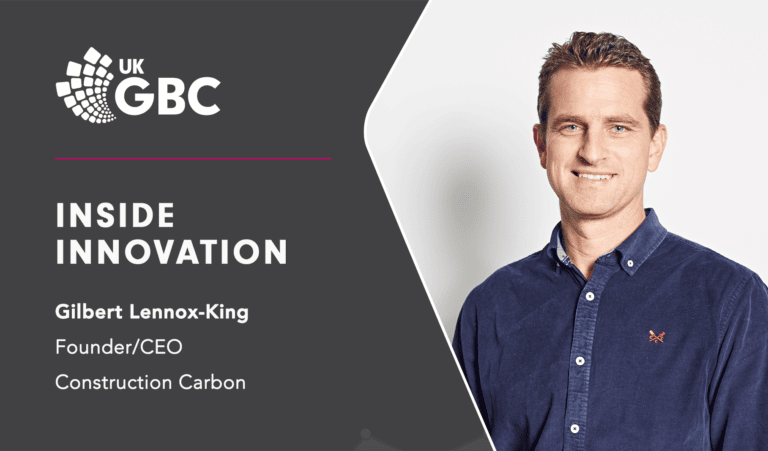 What is your elevator pitch?
'Construction Carbon provide independent carbon performance scoring and verification for anyone doing a construction project. It was founded out of a frustration that lifecycle assessments were not accessible or consistent. Net Zero for Construction is inaccessible for a large part of the market. The journey to net zero of understanding, assessing, reducing and potentially offsetting is really just a big developer's journey right now, and for the smaller developers and housebuilders or contractors, it is still something that is too hard.
Construction Carbon is not a consultancy, we provide independent verification. We work with a network of consultants, technology providers and developers – they come to us, and we do a peer review process so we can make sure that the assessments are complete and comparable.
In terms of ranking projects, we use the LETI benchmarks which are getting better, but they are not 100% set in stone because they are not really based on consistent application of lifecycle carbon assessments. We want to get to a point in the future where we can score construction projects based on benchmarks. There's still a way to go for refurbishments.
One of the other frustrations we had, and why we set up Construction Carbon is if you take an extreme example: you could fly everything in from coal fired factories around the world and have a massive up front carbon footprint and build a very energy efficient property and you'd probably still win awards for that, but no one would be looking upstream at how much carbon you'd spent to get to that point. The longer term aim of Construction Carbon is to look at both operational and embodied carbon, but right now there is so much work to be done in the embodied carbon space. The effort on the construction part of it has been quite limited. We believe that the assessment part should be streamlined so that time and effort can be spent on reduction efforts.
Finance is the carrot that will probably move things the quickest in the interim. We are working with a financier who has created a mechanism where for example if you get a B or above on the Embodied Carbon benchmarks, you'll get a financing rebate at the end of your construction project of 50 basis points, there is a clear financial incentive for developers to hit those targets.'
How did your start-up get to where it is today?
'I spent the last couple of years working for an office developer, I was heavily involved in the sustainability strategy. We were doing whole lifecycle carbon assessments. We were seeing inconsistent figures across the projects. Tom, who's a chartered surveyor and project manager, runs construction projects of all shapes and sizes. His customers were coming to him and saying, "How do I get to Net Zero for my construction project?". It was born out of a frustration that he couldn't really give that answer to them. We were introduced by a mutual friend and started talking and both said "it's not just an accessibility issue, it's also a consistency issue".
We decided to start Construction Carbon, and we were both working on it at night during covid. Then we got accepted into The Greenhouse accelerator program, run by the Grantham Institute, and received grant funding to get us up and running, and then we started to get some clients. We currently are about to close a pre-Seed round.'
What does innovation mean to you?
'A new way of doing things that works for the industry. You can have an innovative idea but it's not really an innovation until it works for the industry.'
How hungry is the built environment for innovation?
'So hungry. Having worked in a developer, there's a lot of things that are broken. But if everyone's making money and times are good, why do they need to innovate? Alongside that there are all these massive challenges like the LETI benchmarks, CREEM and NABERS forcing transparency.
Innovation must help with these challenges. Energy is another very big challenge to deal with. How do you get up the curve to an A++? There are so many certifications out there – all of them cost money – what ones are the occupiers asking for now and tomorrow, and how does that affect developers?
Innovation helps with those complexities. Out of all the certifications, sustainability will be the number one thing that developers care about, which requires innovation. Also, not a lot has changed over the last 100 years in terms of building sites, and as a result, costs keep going up. There's a lot of pressure on developers to change this. PropTech as a term has been around for a while and there have been few success stories coming out of it, and there are new drivers today that weren't there a few years ago, that is a key change. Energy prices going up currently is a good incentive for innovators to innovate now. So, lots of drivers there.'
What needs to change to help encourage more innovation?
'The UKGBC has a really important part that it can play – you have all the developers who want to do better here, and all the innovators who want to talk to the developers, there is a requirement and need from the developers who are starting to feel that need more than probably they ever have. There is a role for the UKGBC to play matchmaker there. That is something that could foster innovation. Maybe the UKGBC could not only do introductions, but also do pilots or competitions.'
What are the biggest challenges you have faced as a start-up?
'Aside from the standard start-up challenge of cash-flow, it is about how to get and maintain credibility quickly. It's communicating what we are doing and why it's important. Another challenge is broadening the network of consultants so that we are seen to be a valuable resource that can sit in between developers and consultants with oversight over the process and valuable benchmarking and data provision – reaching critical mass is key.'
What's your advice for new innovators and start-ups in the built environment?
'Don't underrate partnerships with other innovators and start-ups you can work with. That can be very valuable, and I've learned a lot out of it. It helped us get the ball rolling.'
What's next for your company?
We are currently delivering different type of projects. We have found that the lifecycle assessment process for smaller projects is quite manual and costly, so we are trying to figure out how to use existing technology to help that verification process along the way, and whether smaller projects can be streamlined.
The more we do projects, the more it becomes clear that a big challenge for developers is data availability and quality, which needs to be improved. The consultant has to wade through a lot of documents, manually plug it into a calculator, and that piece of work is one of the big time and cost consumers. So we are figuring out a way to reduce that friction of data collection throughout the construction process.
We're also working on a training program as a part of this process with consultants, which will probably be launched towards the end of the year. We're putting together a best practice document for carbon assessments, and a code of practice for a carbon assessor, along with some of the leading industry experts.
The next thing is automating some of the process, enabling you to understand where you are now, what your options are for reduction, and making that process for assessments more frictionless. The third main one is that there is a lot that can be done around offsetting. There needs to more dialogue about how we can do that better.
So, to summarise, training, data automation and offsetting are the three big things we are working on over the next 12 months, to fulfil our mission to make Net Zero for construction more accessible, credible and consistent.
You can get in touch with Construction Carbon at www.constructioncarbon.com