Grid2.0
Neil Gething, Chief Operating Officer at Grid2.0 talks to UKGBC about what its like to be an innovator in the built environment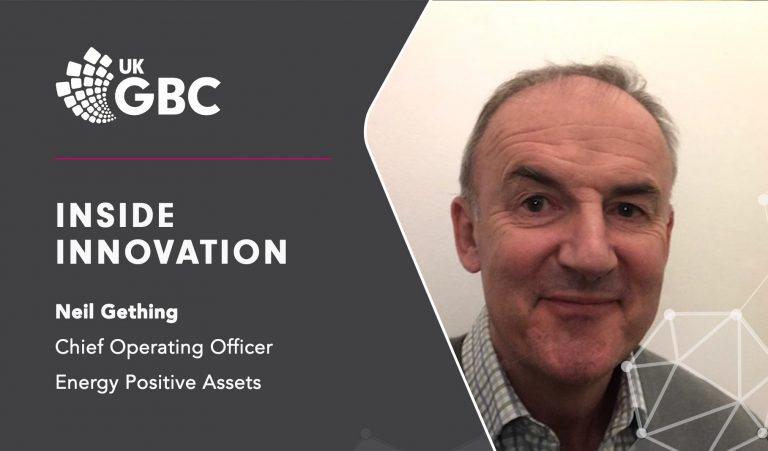 What is your elevator pitch?
We aim to deliver energy positive homes without a premium price – to improve the speed, cost and environmental impact of new buildings. That entails the adoption of modern methods of offsite construction, and using modern technologies within the fabric and building process to deliver net zero.
Built off site using sustainable materials and sustainable methods of construction (to lower the embedded carbon) and to deliver homes which have a negative carbon operating footprint. Modern methods of construction is embryonic but broadly understood within the industry, what we overlay is the ambition of net zero carbon and energy positive elements of design.
In our designs recycling is important, and we have rainwater harvesting and a mechanical ground source heat pump. However, the most economically potent technology is solar, so we use it as much as we can within the vernacular that is appropriate for a house. We then try and minimise the energy required by the dwelling through utilising energy efficient technology.
We are planning on doing an independent report on the embodied energy of our housing. It is important to us to have this independently verified to ensure it stands up to scrutiny.
Currently, we have built one prototype. We have 6 different typologies that we are working on to develop a full package of design and structural drawings for 6 very different looking houses.
How did you get to where you are today?
Me and my colleagues come from a technology background. In an earlier guise we were UK Energy Partners which was established to improve the energy efficiency of the existing buildings stock. Our model was to refurbish schools and colleges, to improve energy efficiency (better lighting, heating, insulation, renewable energy) and it was this experience that first drove us to develop new, energy efficient designs for school buildings. We designed and built our first school building, on site rather than off site, in 2012. With the successful launch of our school buildings, the company became Net Zero Buildings in 2014. We established our off-site factory (in Newmarket) the same year.
It was our introduction to that world which showed us how energy inefficient our built estate is, not just was, but still is. That drove us to think about how we could do things differently. In turn we looked at how we could develop designs for a new building. We delivered the building and had a year of proving the performance and then developed a relationship with DfE. We established ourselves as a net zero builder of school buildings. This then fuelled our ambition to diversify into homes where the greatest need is.
At Net Zero Buildings, we had Private Equity backing from 2016 and I left in 2018 to start Grid2.0 to focus on new designs (and production processes) for houses. At Grid2.0 we are self-funded but currently talking to established property investment operators about our plans for growth and scale.
What does innovation mean to you?
For us it is about delivering products that improve people's lives in terms of function and affordability. Our aims and definition of innovation are more short term than others. The process for innovation starts with the end in mind and working backwards, looking at how to achieve this in the shortest time possible. When it comes to housing this is about asking what can we do fundamentally change and improve the fabric and price of the buildings in alignment with a net zero criteria.
We believe creativity, collaboration and perspiration make something innovative.
How hungry is the built environment for innovation?
4 or 5 years ago there was very little appetite, we have seen a great deal of change over that period. It is easy to criticize government but in this instance, I would suggest they have provided some clear and solid leadership as demonstrated by the changes in legislation around fossil fuels, heating and their stated ambitions for net zero. Leadership from the UK Green Building Council, Construction Hub and Digitally Built Britain also helps.
The laggers are the larger established home builders. There are enlightened examples however within that community of companies that are looking to embrace much of what is close to our hearts, for example the likes of Mace and others.
We see part of our role to collaborate and enable partners to see what is feasible and how to get there. There are targets (eg, carbon) and good intentions; we now need to refine the aims into deliverable targets for the whole industry.
What needs to change to help encourage more innovation?
Simple answer is legislation. The best example of that is the changing legislation around heating and the removal of gas boilers from heating. That was a bold step that changes behaviour and gets to the heart of driving innovation.
The opaquer answer lies in incentivising and encouraging the big building operators as change won't come without their support.
There is a lot of good work happening within government agencies and University departments. The speed of improvement would be enhanced with greater collaboration between these bodies and traditional construction companies. The latter hold the resources and they have the power to drive to Net Zero with more haste, but they could be more committed.
What are the biggest challenges you have faced as a start-up?
The biggest challenges we have faced is the resistance and reluctance to accept there is a better way of building and that that better way is within our grasp. It still is the case that traditional practices are very well established and run deep into the way we build in this country, for example the fact we build on site rather than offsite. I think a lot of people now recognise this is an inefficient way to build. We still have a long way to go and the resistance comes from people who have a vested interest in maintaining the status quo. This is not as difficult for us as it has been in earlier years due to finance.
Money and ambition are always the biggest challenges for start-ups. We were fortunate that the main stakeholders in this project made money from previous enterprises that we could put into this operation. We are backing our beliefs with our own money. That removed one of the fundamental challenges as we were then able to have a building laboratory and build a prototype. We still have the challenge of selling our ideas to the market and this takes time.
Size is always a barrier within the construction sector, which is dominated by a relatively small number of traditional and powerful players. However, the sector is changing as a result of leadership bodies and government influence. We see a lot of emerging support from industry agencies (like UKGBC, Digitally Built Britain and the Construction Hub) which will in turn drive policy and change. This is happening now.
What's your advice for new innovators and start-ups in the built environment?
I think the built environment is quite a potent landscape for innovation. There is lots of scope for development and lots of opportunity for innovation because there is a need to change the nature of the industry and how we build. To that extent we need to invite and encourage innovators accordingly. There is scope from micro design and components through to the way that we build.
Make sure your idea has a commercial application – and define it – then focus on seeking out and working with parties who might share your vision and ensure they can help you get there (finance, customer reach, production facilities etc).
What's next for your company?
Big and exciting things I hope. We have demonstrated the viability of building net zero homes in an offsite setting. Those that are interested we can prove that to. We need to prove beyond that how we do it to scale. We need high quality housing in high volumes and to achieve that we need a machine to build buildings, which is the offsite production method, we believe we have a design and model that works, but that requires a great deal of investment. For us it is about working with landowners and property investors to get there buy in for net zero energy positive buildings and to really strive for the new methodologies and to invest in them. If we can do that we will be developing factories and manufacturing facilities that can build thousands of houses per annum and that is our ambition.
We have several micro ideas in development, to improve the fabric and function of Net Zero homes as well as the process to deliver them. Many would be considered dull to your readers but one example is the incorporation of smart home technology into the fabric of new buildings, so homeowners can remotely control heat, security, access and appliances. The technology has been around for decades but it's now available (and deliverable) for pennies.
In addition to houses – including our Risby prototype – we have developed a small/flexible/versatile energy positive space (SunHaus) which is partly in response to Covid and the emerging need for smaller offices and break out spaces. We have also designed and delivered a prototype solar canopy EV charger (we call it SolarCatcher).
Over the next year we will develop smaller commercial schemes under our own investment, but to meet our own specific ambitions it is about building at scale. To that end we absolutely need to collaborate.