The Whole Life Carbon Roadmap – 4 Key Findings You Might Have Missed
The UKGBC team continue its Whole Life Carbon Roadmap blog series that looks at this key report in depth, in this blog we look at 4 key take aways you might have missed.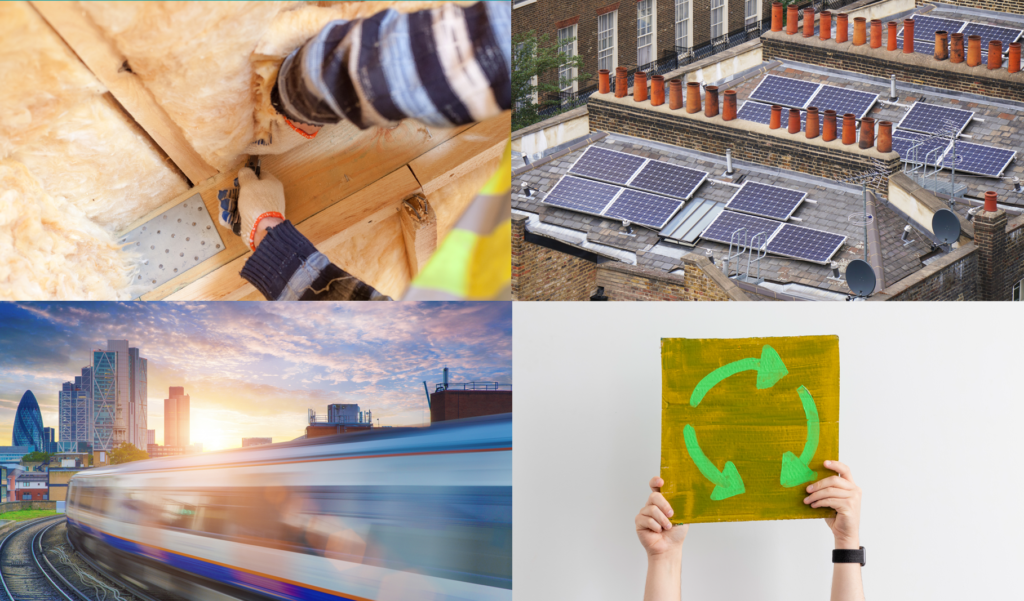 This is the second in a series of three blog posts on the Net Zero Whole Life Carbon Roadmap (the Roadmap). In this post, we highlight some of the key Roadmap findings you might have missed in your first read. Catch up on the first data deep dive blog post here.
With four published outputs, acquainting yourself with the full Roadmap can seem like an unfeasible task. However, there are several findings outlined in the Roadmap which are key to the built environment sector's decarbonisation. In this blog post, we explore four of these findings that you may have missed on your first skim.
The Roadmap presents one of the first attempts at quantifying the embodied carbon impact of domestic retrofit.
Decarbonising the UK's existing housing stock is one of the most significant challenges facing the UK in decarbonisation. Whether it's the Roadmap, the 6th Carbon Budget, or the Government's Net Zero Strategy, there is consensus that achieving net zero will require a fabric first retrofit approach to reduce a buildings operational energy demand.
While this widescale retrofit of homes is necessary, the embodied carbon of such a massive undertaking should also not be ignored. The Roadmap trajectory (see Interactive Graph here) illustrates a spike in embodied carbon emissions from domestic buildings between 2025 and 2035 – that is a direct result of the nation-wide retrofit programme that the Roadmap suggests is implemented.
While retrofit should absolutely be pursued for the carbon, health and social benefits, the embodied carbon of retrofit solutions is not an area that has received a lot of industry focus. Minimising the embodied carbon of retrofit is a research gap that should be investigated by industry to try and better understand how to minimise any carbon impacts.
Investment into decarbonisation infrastructure is necessary though this also comes with an embodied carbon impact.
Achieving net zero will require significant investment into renewable energy capacity and transportation systems that reduce overall demand for car use. There is a 100% increase anticipated in total infrastructure investment from 2018 – 2050, driven by increased investment in electricity and rail sectors alongside other infrastructure sectors. These come with a carbon cost – embodied carbon will spike as a result of these investments.
Many of the material supply chains will be reliant on the deployment of CCS and / or Hydrogen in order to decarbonise hard-to-abate emissions (i.e., high temperature processes, or chemical process emissions such as cement production). This cannot be done by industry alone; Government support will be critical to unlocking these strategies.
¼ homes will have Photovoltaic Solar Panels (PV) by 2050, alongside a 6.7% annual increase in PV installations on non-domestic buildings.
The Roadmap projects that PV on buildings will form a critical element of energy system decarbonisation. There is currently only about 1.7 GW of solar on non-domestic buildings, and 13GW is needed by 2050; domestic buildings will need about 35 GW from 6 GW currently.
For new buildings, changes to Part L (the Building Regulation that relates to energy performance of new and existing buildings) and the introduction of the Future Homes Standard (building Regulation for decarbonising and futureproofing new build homes) mean that from 2025, it is likely that every new home will be built with solar PV. While not yet required on retrofits, there could be an opportunity to also mandate the installation of PV on major retrofits.
PV on domestic buildings may also provide significant financial savings for families as homes switch to heat pump heating and electric cars; with this impact being more important than ever as households across the UK face a sharp increase in energy bills and cost of living. Outside of energy bills, combining PV with electric cars as battery storage can provide a significant opportunity for both cost and carbon savings for personal transport.
Circular design principles are necessary for reducing the total life cycle impact of buildings
An industry-wide behavioural shift is required for prioritising the reuse of assets and materials, along with greater flexibility and creative thinking around how we can better utilise our existing stock. In the Roadmap trajectory, this looks like:
A 20% reduction in material usage through design efficiency by 2050

A 10% reduction in material demand by 2040 through increased material reuse

25k new homes PA from 2025 onwards via change-of-use conversions

A 10% reduction in new office / resi demand by 2040 through improved utilisation of existing building stock
Reuse must be the first approach considered by designers and developers alike, which whole life carbon assessments should help incentivise. Every stakeholder in the value chain has a role in proactively recommending circular approaches and ensuring that circularity is considered at every step.
Learn more about Circular Economy here.
Conclusion
UKGBC and other industry stakeholders intend to track progress against the Roadmap and update its recommendations over the coming years, which means that new findings will be unearthed and take prevalence over others. Indeed, the more the Roadmap is explored, digested and discussed within the industry the more we can all learn about the routes forward for our built environment to reach net zero. The findings in this blog are just some examples of what the Roadmap can tell us about the next steps. Therefore, if you want to discover specifically what you should be doing in your sector now, read our Stakeholder Action plans for targeted recommendations.