3 Key Policies - The UK isn't built for this heat, the next Prime Minister must take this seriously
UKGBC's Director Communications, Policy & Places, Simon McWhirter, reflects on what the changing climate means for our buildings, how they can adapt and fundamentally what government must do to facilitate this.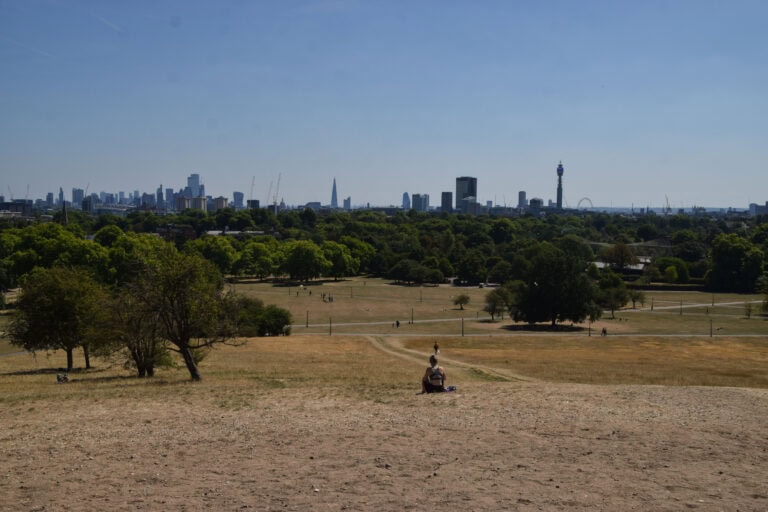 The UK isn't built to take this heat. Our homes and workplaces already tend to be too hot in summer and too cold in winter. And as prolonged spells of dry weather and drought become more common, our homes' inefficient and wasteful approach to water use and conservation will become distressingly more evident.
The extreme temperatures and the increasing risks of the drought warnings currently being experienced in the UK should be a wake-up call. As the government's own Climate Change Risk Assessment highlighted last year, this poses a clear and substantial risks to health, life and vital services such as healthcare and education. It is also a huge threat to our economy.
And this is mirrored across the risks highlighted by the Climate Change Committee (CCC); that a wide array of the UK's social, economic and environmental goals are at risk of being undermined by a lack of resilience to the impacts of climate change. Without ambitious action, the new Prime Minister's agenda risks being fundamentally undermined.
Together with the CCC, we believe the UK has the capacity and the resources to respond effectively to the risks posed by overheating and other climate-related extreme weather events such as drought and flooding, but it has not yet done so.
Acting now will be cheaper than waiting to deal with the consequences. That is precisely why UKGBC is calling on our new Prime Minister, whomever it may be, to take urgent action in three key policy areas.
1) Upgrade existing homes so that they are cool in the summer and warm in the winter
With around 80% of buildings that will be lived in and occupied in 2050 already built, and with 20% of homes in England already vulnerable to overheating in relatively normal summers, we clearly need immediate action to protect our buildings against the changing climate.
The government must urgently bring forward a national strategy to upgrade our homes; installing measures which improve energy efficiency, actively reduce water consumption and eliminates our dependence on gas. But at the same time, make sure our homes are liveable and safe in the face of more frequent extreme weather events.
This means a national effort to install measures like shutters to reduce solar glare, insulation, reflective paint, and water-efficient fixtures and fittings as part of a holistic approach that considers the implications of different interventions together. For example, ensuring appropriate ventilation solutions alongside external wall insulation, to prevent issues like damp or heat-loss in winter.
However, there is little sign of a government plan to roll-out the kind of solutions needed, even as the cost of energy rises and the economy struggles with the costs of extreme heat. The incoming PM must urgently prioritise a plan to accelerate retrofit solutions, which are a 'win-win' in terms of providing the most cost effective, long-term means to lower bills, reduce the risk of overheating and manage water consumption during periods of dry weather.
2) Mitigating overheating must be baked into new building standards
Given the extent of the challenge for our existing stock, we should not be adding to the number of homes that will need retrofitting due to poor standards across new builds.
Although we welcomed recent changes to building regulations which require measures to address overheating, these only apply to new homes – not commercial buildings and not existing homes.
In addition, building regulations only require new homes to have a water consumption standard of 125 litres per person per day. This is significantly above the recommended pathways of the National Infrastructure Commission and Water UK, as well as the 110 litres per person per day recommended by the Environmental Audit Committee and government's own target.
Greater water efficiency must be designed into new buildings to reduce unnecessary waste and ensure security of supply. We're therefore calling for the government to strengthen building regulations through its Future Home Standard and Future Building Standard, to reduce water consumption in line with ambitious industry targets. This must be supported by introducing mandatory water labelling for fixtures and fittings, and property-level water efficiency information similar to EPCs. Likewise, regulations on overheating must be strengthened and extended to ensure current loopholes are closed.
3) Put climate at the heart of the planning system
Finally, we're pressing for amendments to the Levelling Up and Regeneration Bill currently in Parliament which ensure climate change is placed at the heart of the planning system.
National adaptation policy in planning mainly focuses on flooding, and even then, homes are still being built in flood risk areas without sufficient attention to how to address and respond to the risks. We also need a clearer definition and broader focus on adaptation in national planning policy to consider the whole range of issues associated, such as localised overheating risk, areas of water stress etc. This must be accompanied by more robust specifications on multifunctional solutions, such as urban greening to provide shade, sustainable drainage systems, and the introduction of 'Environmental Net Gain' to specifically encourage adaptation benefits.
–
The growing risk of a national drought being declared and the reality of us having hit our highest temperatures in history shouldn't be ignored. We're in a race to do everything possible to adapt and decarbonise. This should sit at the top of the next Prime Minister's in tray.
Read more about how we can adapt to climate-related physical risk using nature here.