Eligibility, pricing and how to apply
Everything you need to know about applying to become a UKGBC member.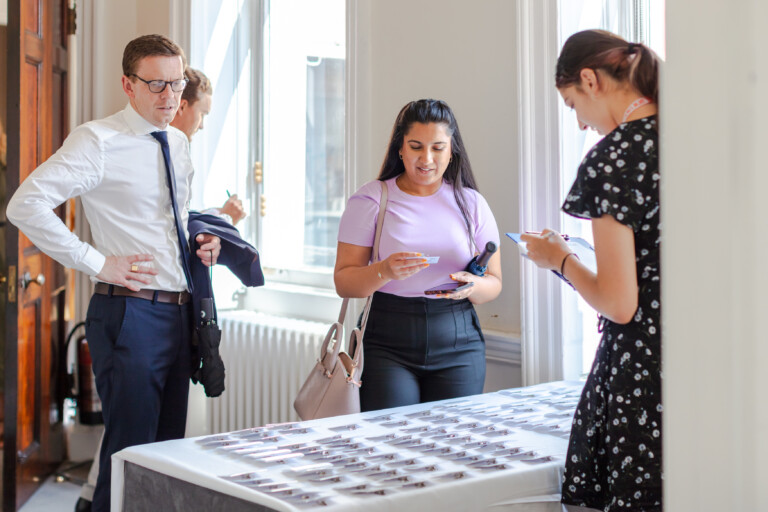 Your Climate Commitment
Thank you for considering joining our growing network. As part of the online application process, you will need to let us know your organisation's "Climate Commitment".
UKGBC's goal is to encourage, facilitate, and accelerate the built environment's transition to net zero. We ask our members to join us on this mission by taking action to halve global emissions by 2030 and to deliver a healthier, fairer zero carbon world by 2050 at the latest.
Membership Climate Commitment Requirements:
All UKGBC members must, at minimum, commit at the head-of-organisational level to take action that contributes towards the global effort needed to halve emissions by 2030 and reach net zero by 2050 at the latest. All members are strongly encouraged to align their commitment with the Race to Zero criteria, and to formally join the campaign through one of its Partner initiatives.
UKGBC Gold Leaf members are required to demonstrate their ambition and commitment by formally joining the Race to Zero campaign and aligning their activities with its criteria.
When you complete your application, you will be asked to confirm the following:
Is your organisation a Race to Zero signatory?
If your organisation is not a Race to Zero signatory:

What are your organisation's targets / goals / activities being taken to reduce its own direct and indirect greenhouse gas emissions?
What are your organisation's targets / goals / activities being taken to contribute to greenhouse gas emissions reductions outside of its own value chain? E.g. through products / services offered or political lobbying.
UGKBC will review the information you provide as part of your membership application process. We do not at this time prescribe the scope or ambition level of commitment required. However, we cannot guarantee to provide membership value to any organisation that does not have some form of commitment to address its own climate impact and/or support the wider global transition to net zero through – for example – the products and services it offers or its advocacy activities.
The fees
We have different fees depending on your organisation type. Business fee bands are determined by your UK annual turnover or value of assets under management / Gross Asset Value*.
Social Housing providers pay a fee based on annual turnover, with a capped rate at £2,800. Discounts of 50% on the standard rate are also offered to registered charities. Fixed fees are offered for Local Authorities, Universities, Government Departments, National Institutions, Professional Bodies and Trade associations.
* Property investors, investment trusts, Institutional investors, real estate businesses and REITS fees are based on the value of assets under management
Annual turnover
band
Assets Under Management /
Gross Asset Value
Fee
(ex VAT)
<£250k
N/A
£250
£250k – 1m
N/A
£600
£1 – 4m
N/A
£1,840
£4 – 10m
N/A
£2,050
£10 – 30m
N/A
£3,500
£30 – 100m
< £1bn
£5,200
£100 – £250m
£1bn – £1.5bn
£8,400
£250 – 500m
£1.5bn – £2bn
£9,250
£500 – 1bn
£2bn – £5bn
£11,550
£1bn – 2bn
£5bn – £8bn
£13,750
> £2bn
> £8bn
£16,000
Gold Leaf
+ £5,000
Organisation type
Fee (ex VAT)
Public Institution / Government
Department
£2,800 (fixed rate)
Associate
£1,200 (fixed rate)
Social housing provider
£2,800 (capped)
Innovative Start Up
£250 (fixed rate)
Local Authority
£250 (fixed rate)
University
£250 (fixed rate)
Registered charity
50% discount (capped at
£2,800)
Register with us before making an application
To start your application, you will need to register to use the login area of our website. Once registered, having created your user password and been verified by email, you will be able to save and return to your application and come back to it at any time by going straight to log in. It's easy and secure to register, when you click on the registration link below, a new tab will open and you will be prompted to enter your name and email address before the verification email is sent.
If you have any questions on the above, please get in touch.
Our UKGBC members are on a journey to achieving net zero, reducing their greenhouse emissions in the face of the climate crisis. Our members have made a climate commitment, what is yours?
View more