FEASIBILITY STUDY: Riverbank School Retrofit
A feasibility study to assess the cost, carbon count and environmental performance of varying levels of renovation taking place on a school building.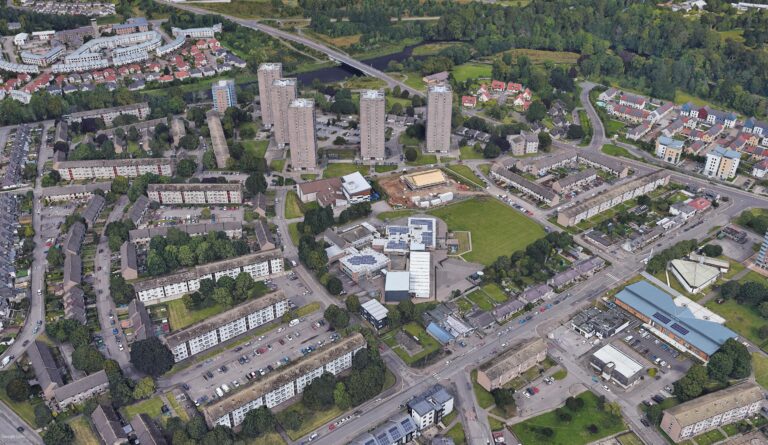 Key Sustainability Objectives/ Outcomes
In Scotland, one can receive funding through the Outcomes Based Funding (OBF) model when building a new school / renovating an existing one. Current funding metrics consider energy performance as a key determinant. This often results in the development of a new school being the default option to achieve the best possible energy performance. However, there is currently no consideration for embodied carbon as part of these metrics.  
This creates a trade-off between the better energy performance that may accompany building a new school versus the increased embodied carbon that such an action would entail. The refurbishment of an existing building – or even doing nothing at all – could result in lower emissions overall. Therefore, it is vital to consider embodied carbon as a key factor in identifying the best value approach. This was the aim of the Riverbank study, accompanying its study of cost, condition, suitability, risk and programme. The four options that were assessed included:
A base level refurbishment.

An enhanced retrofit.

An optimum retrofit.

A new build school.

 
Although the new build resulted in the lowest energy consumption, energy modelling determined that the optimum retrofit was still able to achieve 76.6kWh/sqm/year, placing it into the same energy performance band as the new build option (Band A: 67-83kWh/sqm/year). They also both received condition and suitability ratings of A (Aberdeen City Council).
There was a significant difference in embodied carbon across the four options, with the new build having the highest value (46% greater than the optimum retrofit, 61% greater than the enhanced retrofit, and 136% greater than the base level refurbishment). In contrast, there was a minimal difference in cost between the options, with the new build costing only 0.5% more than the optimum retrofit. This suggests that the key benefits to retrofit lie within embodied carbon statistics, rather than cost savings. The results of the study were presented to Aberdeen City Council and LEIP (Learning Estate Investment Programme) who are now reassessing their funding metrics to potentially include embodied carbon as a key determinant going forward.
Notable Approaches And Solutions
Enhanced energy modelling.

Early stage LCA including embodied carbon calculation of the existing structure and demolition to allow for an accurate comparison between the retrofit options and an equivalent new build school.

Detailed cost assessment.

Detailed programme assessment.
Lessons Learnt
The embodied carbon calculation for the LCA in an existing building structure is not yet a widespread practice. This resulted in resistance from environmental consultants and therefore required extensive work on the part of project architects and quantity surveyors to break down the existing structure into its fabric elements. A detailed breakdown of the embodied carbon was thus determined, enabling an accurate comparison between the different retrofit options and the new build school.