Collecteco Carpet Tile Donation
Generating social value, net zero and circular economy benefits by donating surplus carpet tiles.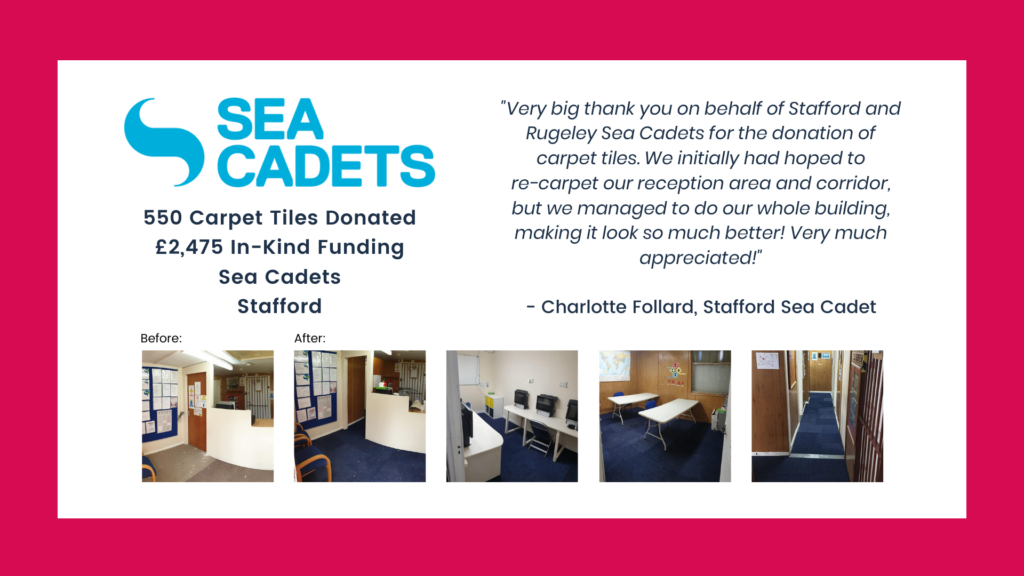 Key Sustainability Objectives/ Outcomes
During the donation project the following figures were generated:
Over 68,000 carpet tiles donated to 44 good causes across the UK.
337.5 tonnes of CO2e Avoided.
£308,250 worth of materials were donated to the community.
68 tonnes of carpet tiles were diverted from landfill.
44 good causes across the UK were supported by the donation project.
Great commitment from the client and communication with site meant that the tiles were "graded" as they were lifted which resulted in reusable tiles being sent directly to good causes working in the community. This avoided the need to take the tiles to a Collecteco reuse hub and the associated transport, storage and other carbon. The tiles were sent through the pallet network which uses freight consolidation and backhauls to minimise emissions.
Efficient transport also meant that the cost of the donation project was significantly reduced which resulted in more good causes being able to benefit from the donations.
Notable Approaches And Solutions
Good communication with the staff lifting the tiles meant that they were aware the kit was being used to help the community and they took great care to "grade" and protect the tiles. This took minimal time and actually the stacking of tiles directly onto pallets reduced handling.
Collecteco holds a waiting list of good causes actively searching for donations of kit. This allows it to allocate kit to where it is needed quickly.
Collecteco managed logistics to ensure that pallets of tiles were cleared from site quickly and when agreed.
Lessons Learnt
In addition to whole tiles, there is a healthy demand for half tiles.
There is an unquenchable demand for carpet tiles from good causes – Collecteco can't get enough!
Although the tiles were older than Collecteco would normally consider for donation, they were such good quality when new, so still were in very good condition and were very gratefully received by good causes.
The project happened during the pandemic and parts of it were around Christmas time, so good communication was needed to ensure that pallets of tiles were collected on time.