Bitesize Explainer Guides
UKGBC's Bitesize Explainer Guides are a growing suite of introductory-level sustainability resources designed to build knowledge and confidence across industry on key sustainability topics.
To empower all corners of the property and construction sectors to engage in the green transition, UKGBC has developed Bitesize Explainer Guides – a suite of resources that demystify key sustainability concepts and create a common language for non-technical experts to confidently get involved in sustainable building topics.
Using jargon-free, easy-to-understand language, UKGBC's Explainer Guides provide a jumping-off point for non-sustainability professionals to begin their sustainability learning journey.
The one-pager guides break down key climate and nature topics into digestible chunks outlining:
How it is defined

Its importance in tackling the climate crisis

How it relates to the built environment

Relevant resources to consolidate knowledge.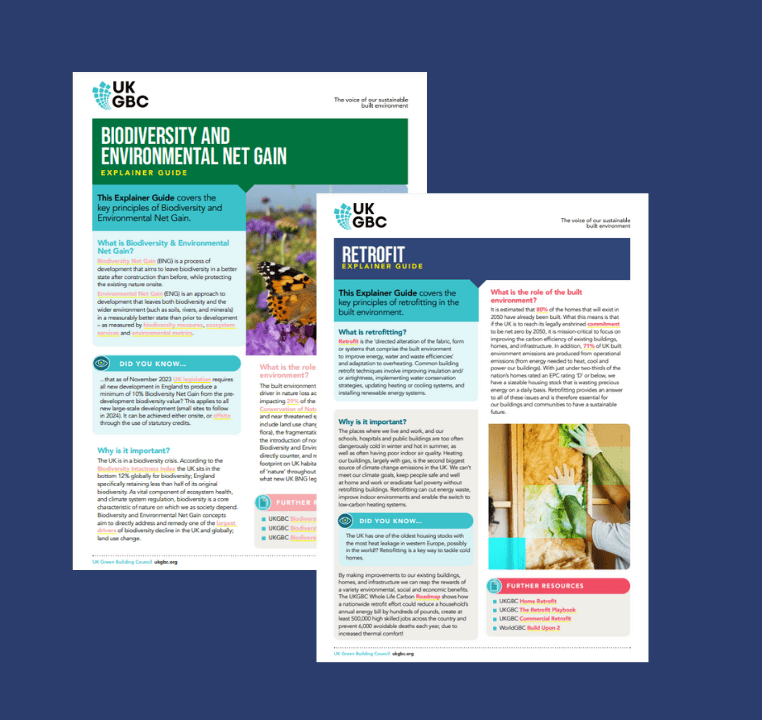 Download the original series
Looking for more Bitesize Guides to extend your sustainability learning? Check out our Bitesize Practical Guides detailing sustainable building approaches at all stages of the life cycle
Learn more
Impactful, inspiring and accessible learning is at the heart of our mission at UKGBC. From bitesize courses accessible on the move to immersive learning on live projects, UKGBC's diverse and comprehensive Learning and Leadership portfolio offers a range of opportunities to raise awareness, deepen sustainability knowledge and build skill
Learn more