Welcome to World Green Building Week 2018
UKGBC's Chief Executive, Julie Hirigoyen, talks all things World Green Building Week and highlights the importance of greening our homes.
It's finally here! The biggest awareness-raising week in the green building calendar is upon us – and there's plenty of exciting things I want to tell you about.
This year's focus is on homes and our friends at World GBC have devised an impactful campaign highlighting the importance of making all homes greener. The #HomeGreenHome campaign aims to raise awareness of the sustainable measures and practices that can make a difference in homes and empower us all to deliver greener buildings.
In the UK, homes account for around 30% of our carbon emissions through the energy used for heating, lighting, cooking, hot water and appliances. It is important to focus on homes because of the sheer scale of the challenge. To achieve our national carbon target of an 80% reduction in emissions by 2050, we will need to improve almost all of the UK's 26 million homes with energy efficiency retrofits. That means we need to retrofit more than 1.5 homes every minute between now and 2050! Its also crucial that we don't keep adding to the number of homes requiring retrofit by building new homes to net zero standards as soon as possible.
Green Home Heroes
Here at UKGBC, we've used World GBC's theme as inspiration for Green Home Heroes – a social media campaign designed to highlight action at the grassroots level. We've teamed up with SuperHomes to profile some of the inspiring individuals that make up the SuperHomes network – real people with a passion for sustainability who have turned their homes into glowing green exemplars.
Here's a shot of our first Green Home Hero, Jürgen, be sure to follow us on Twitter @UKGBC to keep up with the campaign throughout the week!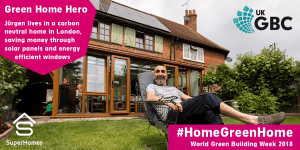 Green Homes: from policy to practice
On Wednesday, we're hosting our set-piece World Green Building Week event in Manchester, where we'll discuss how we achieve a step change in the sustainability of new UK homes. The audience will hear dynamic presentations from expert speakers representing UKGBC members GS8, Igloo, ilke Homes, Peel Land and Property Group, and Redrow. Attendees will also have the opportunity to network with professionals from right across the construction and property industry.
There are still tickets available for UKGBC members – register here.
UKGBC member events
This year there's a fantastic array of UKGBC member events being hosted to mark World Green Building Week. Gold Leaf members Cundall will be hosting an impressive number of events to share their climate change adaptation research across their global network of offices, including six in the UK (London, Edinburgh, Manchester, Birmingham, Belfast & Newcastle).
Other highlights include Elementa's 'On the Path to Zero Carbon Housing' event and The Green Register and AECB CarbonLite joining forces to provide four half-day technical sessions in Bristol on the Passivhaus principles.
You can find out more about WGBW events hosted by UKGBC members here. Or, check out WorldGBC's activity map to see events happening across the globe.
Find out more about green homes…
Read our Healthy Housebuilding briefing note, our Sustainability Standards in New Homes Policy Playbook, our Building Places that Work for Everyone report, and Health & Wellbeing in Homes report]