Using the tools we have to build a circular economy 
UKGBC's Clare Wilde reflects on our two most recent reports that have been designed to accelerate our transition to a circular economy, considering how they can be used together.
Circular economy is a topic which has gained a lot of traction in recent years. The climate and ecological crises have forced us to reconsider our relationship with planet Earth and how we can continue to meet the needs of society and maintain a healthy and safe environment for all. As we continue to overshoot the planetary boundaries, a circular economy has been seen as one of the key solutions to the crises we are facing. As defined by the Ellen MacArthur Foundation, a core part of the circular economy is to eliminate waste and pollution, keep materials at their highest value, and regenerate nature. These principles can also lead to savings in whole life carbon within buildings. As there is a growing appetite to reduce whole life carbon and ensure its regulation, circularity within construction and fit-out projects is starting to be seen as a key player in embodied carbon reductions.
Over the last year, UKGBC has been exploring the key enablers needed to ensure a systemic shift towards a circular economy whilst also looking at the carbon and value case for implementing circular design within built assets.  
Total material extraction has almost doubled worldwide since 2000.
Currently, we have a linear take-make-waste economy which relies on the production of new products to drive it. The extraction, manufacturing, and end-of-life processing of the materials and products needed to drive this economy are both natural resource and carbon intensive, with the total material extraction having almost doubled worldwide since 2000. Our Net Zero Whole Life Carbon Roadmap for the built environment highlights that a circular economy is needed to reduce carbon emissions and stay within our carbon budgets. There are also benefits from a reduction in land used for materials extraction and waste if we maintain and reuse our materials.
At present, the continued economic growth has come at the cost of the degradation of natural resources.1 A circular economy can still continue to generate value with work from Accenture estimating $4.5trillion in value could be unlocked by 2030, whilst also reducing carbon emissions, material extraction, and waste. Equally, there are benefits beyond financial value. Other value can be generated when considering social, health and well-being aspects through applying the circular economy in conjunction with other ideas like doughnut economics.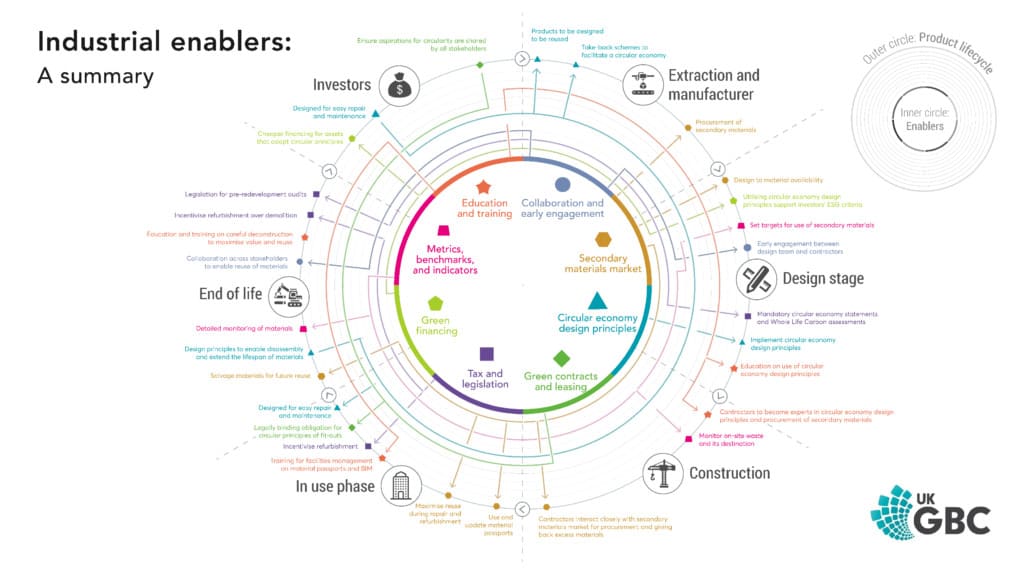 Systems thinking is important if we are going to achieve the transition to a circular economy. Many of the problems we face are systemic issues due to the way our global economic systems work. By looking at things through a systemic lens we can identify the sticking points and start to look for solutions to transition from a linear economy to a circular one.  
In January we released the System Enablers for a circular economy report which outlined eight key enablers to push the transition to a circular economy within the built environment. These eight enablers help overcome common barriers within the built environment when implementing circularity on projects. The report also includes stakeholder actions for industry and government to show the actions they need to take to enable the transition towards a circular economy. The diagram below/to the right shows how the eight enablers intersect with the current construction lifecycle, indicating where within the lifecycle of an asset circular economy can be considered.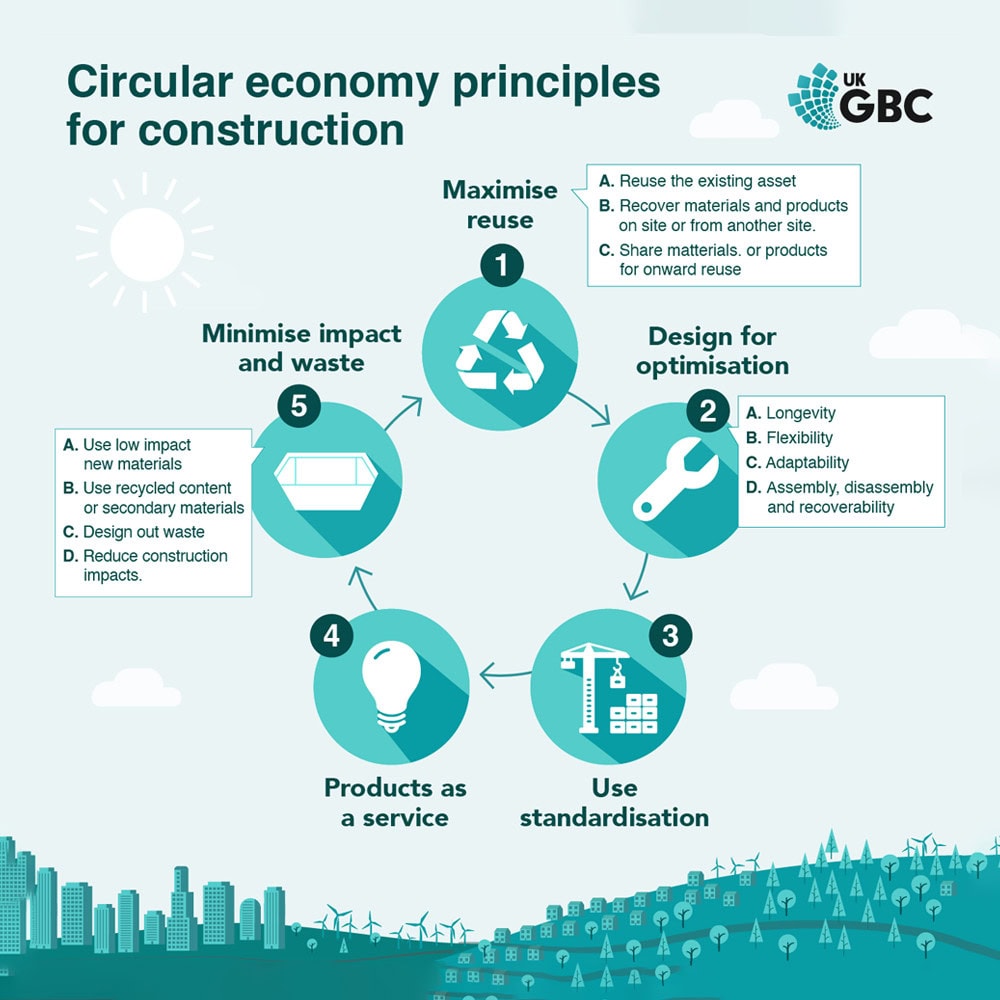 One of the enablers is circular economy design principles. Last year, to build on the circular economy guidance for construction clients, UKGBC released a report on Insights into how circular economy principles can impact carbon and value. This report demonstrates the carbon and business case for implementing circular design strategies within projects. In the report, 18 case studies are used to build the evidence case and show real-life examples where circular design principles have been successfully implemented. The example projects show that implementation of a circular economy is possible despite the challenges faced. They show there can be a reduction in whole life carbon, with financial and other value generated. The case studies also present the lessons learnt from the project to help other through the process of using circular economy design principles on their projects.  
The actions from the system enablers report will help to overcome the challenges seen in the 18 case studies and increase circular economy design within built assets and products. The case studies and experience of our system enablers task group show that when the enablers and stakeholder actions are used in projects circular design can be achieved. It is important to note that often the enablers are not used in silos, with collaboration and stakeholder education often needed to create understanding and buy-in for the circular objectives to be achieved. Between these two reports, the system enablers for a circular economy should provide an understanding and actions to drive the systemic shift, with Insights into how circular economy principles can impact carbon and value report providing the evidence base for the whole life carbon and value impacts of circular economy design implementation.
A circular economy is part of this sustainable future and with cities such as Peterborough and Amsterdam aiming to be circular and a number across the USA looking at buildings being deconstructed rather than demolished we are starting to see the shift towards a circular economy. It is now important we act to support the transition to a circular economy whilst also considering the social, health and well-being aspects such as local jobs and climate resilience, to help deliver a sustainable built environment.  
Raworth K. (2012) A safe and Just Space for Humanity, Oxfam Discussion Papers. Available here: https://www-cdn.oxfam.org/s3fs-public/file_attachments/dp-a-safe-and-just-space-for-humanity-130212-en_5.pdf (Accessed: May 2023) 
The built environment needs to move away from the linear economy and embrace circularity. This will reduce waste, carbon emissions and our impact on the natural world.
View more