UKGBC Innovative Start-Up Forum – What Did We Learn from the Developers?
Sphera's Natasha Boulding reflects on UKGBC's second Innovative Start-Up Forum, where UKGBC's Developer members shared their experiences working with start-ups and discussed ways this relationship could be improved.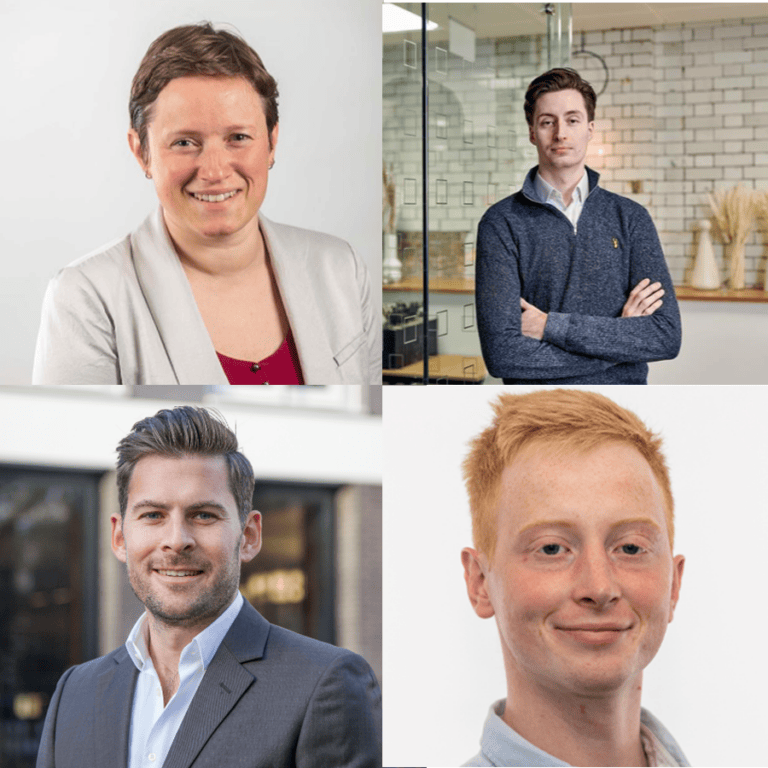 UKGBC's second Innovative Start-Up Forum took place on 12th January 2022, where four of UKGBC's business members working in real estate development and investment joined a group of UKGBC's Start-Up Members for a session on collaboration.
The forum is designed to help address the challenges faced by innovators across the built environment, to encourage peer-to-peer networking, and to connect UKGBC start-up members with corporates. UKGBC is in a unique convening position to support its corporate and start-up members alike in making these connections – and this occasion is a great example of when this works best!
On the 12th of January our start-up members were joined by:
Alex Edds – Director of Innovation, JLL. Representing an intermediary and service provider in the real estate industry; its clients are developers and investors.
Giorgia Franco – Head of Sustainability, Berkeley Homes (East Thames). Bringing a developer and housebuilder perspective.
James Manning – Senior Transformation Manager for Sustainability and Innovation, Grosvenor. A developer, investor, and asset manager, bringing insights from one of the world's largest privately owned property companies.
Sam Szczurek – Innovation and Sustainability Lead, Transport for London. Representing one of London's largest landowners.
Our panellists attended with the aim of exploring how they can collaborate successfully with start-ups, giving examples of times when this has been challenging, or productive, and providing insight into the sustainability challenges they need solutions to.
Natasha Boulding, CEO and Co-founder at Sphera, and a member of the Innovative Start-Up Forum's Advisory Group, reflects on some of the key discussion points from the Forum.
They all engaged with innovators, but how do these partnerships start?
The panellists identified no defined route for collaboration between the business and start-up community and agreed that the arrangement is generally ad hoc. Common forums cited for the initial contact were sector-specific conferences, networking events, mentoring programmes and CPD sessions.
They stressed that for genuine success, a start-up should find an innovation champion. We heard that, often, the success of the collaboration relies on one individual within the corporate championing innovation. When related to sustainability, this naturally often comes through the corporate's sustainability team.
Our panellists agreed that the built environment is lagging, compared to other industries, in embracing innovation. Some leading companies are hiring innovation leads, however, and investing in the resources necessary to support innovation. Grosvenor's James Manning offered a proactive solution from his experience; "We launched Future+, which empowers the wider business to address problems they are experiencing using a decentralised budget." Grosvenor staff are encouraged to identify start-ups with solutions to their challenges.
Can we learn from a good partnership example?
Each panellists discussed the prospect of successful relationships between their organisation and start-ups. A specific example that stood out was from Berkeley Homes. Giorgia Franco explained that they had been successfully working with UKGBC start-up member QFlow for the past year. QFlow's flexibility and help in presenting the business case for their solution, coupled with Giorgia acting as an active innovation champion, were the reasons this partnership took off.
Giorgia noted that the best champion for any innovation is the person to whom it makes the largest difference in their day job. QFlow worked with her to provide data that demonstrated the solution's success in addressing Berkeley's specific needs and were patient while Giorgia gathered internal support and sign-off – "when dealing with a bigger company, things take time to move… flexibility is required".
Can we learn from less successful partnership examples too?
The key to innovation is learning from mistakes. The group certainly identified the lessons learned from 'unsuccessful collaborations' as just as important for their organisation as the successful ones.
The main reasons discussed for corporates being fearful of entering into a partnership with a start-up were: A) the risk associated with championing a solution and ultimately losing face due to its' failure; B) the time commitment required to implement. These fears could be eased through small-scale trials and a clear innovation strategy. Equally critical is the start-up presenting clear and concise impact data or examples of successful case studies. Alex Edds mentioned the importance of innovators articulating their solution clearly and accurately, adding "Know exactly who you are talking to in the company, and how your product will help them."
One point of note for software start-ups is that, in Alex's opinion, "one of the biggest reasons software solutions don't make it to implementation is due to complex integration needs with other legacy systems". It is important to be transparent if your solution needs integration (most do), as this can be expensive and time consuming.
Is price the only factor, or are there other considerations now?
The four panellists agreed that data was key. If your product/service is more expensive in the short-term than incumbents, it is vital that you clearly show the wider benefits of the solution through an evidenced-based business case.
What are the biggest challenges start-ups should be innovating for?
Our panel cited:
Embodied carbon and circular economy: operational carbon has been high on the agenda for some time, but solutions to combat embodied carbon are less well known. Supported by a call for circular economy solutions for material efficiency and reuse.
Tenant support: to encourage tenant waste and energy reduction.
Climate resilience: how to drive efficiencies in sustainable drainage systems, stormwater protection and flood resilience.
Activating spaces and community facilities: optimising the use of space, creating liveable and diverse communities, with local prosperity and business support.
Data collection and sharing: to inform decisions around the implementation of sustainable solutions.
What drives the panelists' sustainability agendas, and how is progress measured?
Alex stated that the landscape and drivers have truly changed "… start-ups and their products need clear ESG strategies and outcomes. This is what customers want to know and how they will make procurement decisions". Consistent and accurate measurement and reporting is key, with Sam citing TFL's public and metric-driven Sustainable Development Framework. James stated that while Grosvenor recognise the long-term commercial and financial benefits of their approach, it's ultimately a recognition of their obligation and commitment to create a built environment fit for the future. Giorgia provided reassurance that a need for action and accountability was creating stable and increasing demand for sustainability, to which Alex agreed "the game has changed… this is now business critical".
Thank you to our panellists for such an insightful discussion, and to the Forum Advisory Board:
The next Innovative Start-Up Forum will be held in April 2022. The Forum is run by UKGBC's Innovation & Solutions Programme. Contact lucy.rees@ukgbc.org for more information and to express an interest in joining UKGBC as a start-up member.