UKGBC announces new Task Group on renewable energy procurement
The UK Green Building Council (UKGBC) has today announced a team of cross-industry experts who will support delivery of new guidance on renewable energy procurement.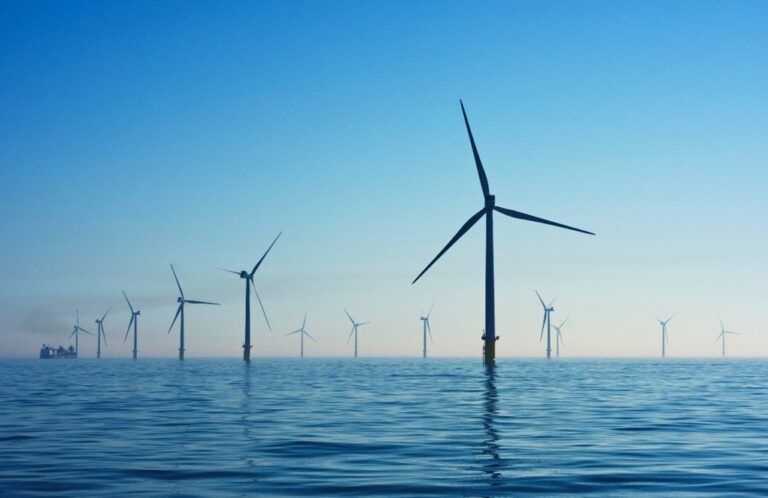 Decarbonising the UK's energy supply sector is pivotal to achieving our national net zero targets and supporting the transition towards an electric heat and transport system. By 2050, it is projected that around 80% of buildings will use electric heat pumps[1]. To achieve this target, the built environment must deploy large amounts of building-level renewables, such as solar PVs, and become increasingly flexible, with buildings able to actively manage their demand to respond to the availability of zero carbon electricity on the grid. How buildings procure energy also has a critical part to play in enabling change across our energy supply system in support of net zero.
In response to this challenge, UKGBC is embarking on a new project to better equip those who procure energy for buildings, to do so in a way which enables them to achieve their climate goals at the asset level, whilst contributing to the continued decarbonisation of our energy supply sector. The project will build on guidance published in 2021 on Renewable Energy Procurement and Carbon Offsetting and seeks to provide greater insight into the myriad of procurement circumstances which the industry currently faces.
To support the project, UKGBC has mobilised a 17-strong team of cross-industry experts ranging from developers, energy consultants to legal experts. The new Task Group will be responsible for fine tuning the final scope of the project, sharing knowledge, completing research, and reviewing material in support of the project's final guidance documents.
Together with the Task Group, UKGBC will produce further guidance to inform and improve energy procurement decisions for stakeholders of all types and scales. The project will also seek to improve engagement between energy suppliers/generators and energy customers, as well as consider how the insight from the project can be used in an advocacy capacity to support energy market reform.
Task Group individuals supporting this project include:
Joanna Burton, Principal Sustainability Consultant,

Acclaro Advisory

Nick Proctor, Founder and CEO,

Amber

Greg Borel, Managing Partner,

Ampersand

Emma Andrews, Director,

Burges Salmon

Ben Richardson, Associate Director,

Buro Happold

Rebekah Needham, Associate Director – Renewable Energy,

CBRE

Samantha Carlsson, Senior Sustainability Manager,

Derwent London

Andy Haigh, Director, Climate Positive Solutions,

Grosvenor

Phil Pearson, Project Director, Utilities and Energy Infrastructure,

Hoare Lea

David Mead, Associate – Property & Asset Management,

JLL

Andy Mazzucchelli, Energy and Sustainability Manager,

Landsec

Simon Crowe, Managing Director,

Low Carbon Alliance

Alexander Crockford, Senior Counsel, Real Estate (Construction),

Macfarlanes

Nils Rage, Head of ESG,

Stanhope

Kirsty Berry, Director of Projects,

Syzygy

Kyle Gray, Energy Efficiency and Carbon Manager – Purpose, Stakeholder and Sustainability,

The Crown Estate

James Blake, Director, Head of Sustainability,

Turley
UKGBC's Senior Advisor, Tom Wigg said:
"Transitioning the energy supply system to zero carbon renewables has been the cornerstone of national decarbonisation progress to date, with electricity now around 70% lower carbon than it was in 2012[2]. As we move away from fossil fuel sources of energy to heat our buildings and power our transport systems, rapid action is needed now to secure a resilient supply of renewable energy and ensure our climate targets can be achieved.
The new Task Group will work together to determine how to robustly assess the quality and performance of an energy product and create tailored guidance to enable customers of all types and sizes to better navigate the procurement options available to them, as well as considering how this information can help customers more accurately calculate the impact of their consumption and procurement strategies."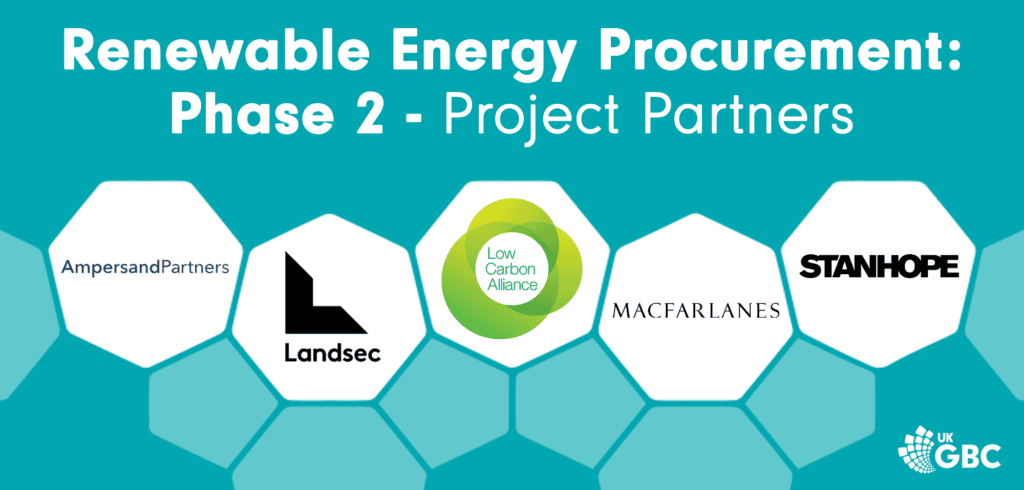 This project forms part of UKGBC's Advancing Net Zero Programme, which has been made possible this year thanks to the generous support of our Programme Partners: BAM Construct UK, Berkeley Group, Buro Happold, CBRE, Grosvenor Property UK, Hoare Lea, ISG, JLL, Lloyds Banking Group, ROCKWOOL, Turner & Townsend, and Project Partners: Ampersand, Landsec, Low Carbon Alliance, Macfarlanes and Stanhope.
UKGBC needs industry support to shape the final outputs of this project to ensure it most effectively responds to stakeholders' experiences navigating the complex energy procurement landscape. If you are an energy customer, an advisor supporting clients to procure their energy, or you're an energy supplier, broker, or generator and want to be involved in informing and reviewing the final outputs, please1 register your interest by contacting ANZ@ukgbc.org.
[1] Net Zero Whole Life Carbon Roadmap: A Pathway for the UK Built Environment. UK Green Building Council, 2021, London, UK
 [2] HM Treasury Green Book supplementary guidance: valuation of energy use and greenhouse gas emissions for appraisal, Updated 7th October 202
Advancing Net Zero Partners
Our Climate Change Mitigation work is made possible due to the generous support of our Advancing Net Zero Programme Partners