Storm Board
Archie Hardyment, Storm Board's Managing Director, talks about what it's like to be an innovator in the built environment.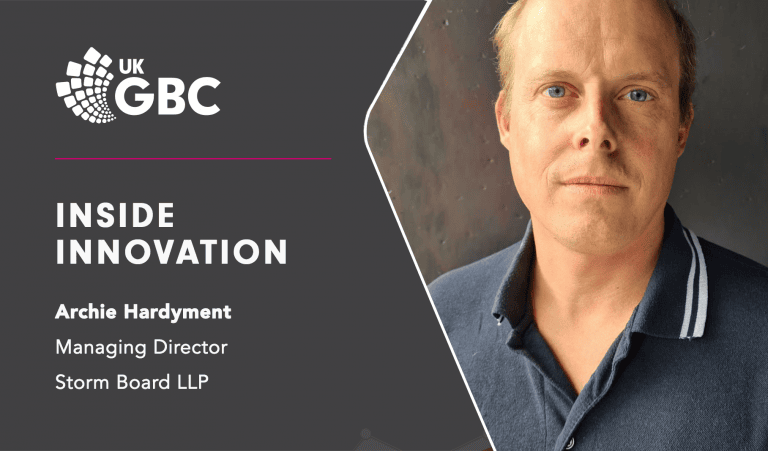 What is your elevator pitch?
All plastics are recyclable- we just don't bother because it's easier to export or burn them.
We need to use waste as a resource to manufacture materials that replace precious resources such as wood.
How did you get to where you are today?
Our technology was invented by a man called Nick Stillwell who is an expert in engineering plastic moulds. The idea came from observations during the Haiti disaster where islands were wiped out by hurricanes. Countless homes and makeshift buildings were destroyed by the hurricanes due being made out of wooden plates and rotting – this was an issue which plastic could help alleviate, so Nick got working on creating a plastic panel capable of doing that.
Nick therefore designed the P2 process which is owned by Protomax. By 2009 he had built a mini prototype, and by 2011 a full-size plate, which led to investment and scale up. We installed our own line in 2017 and Storm Board was made to prove the concept.
Taking an idea all the way through to a commercial industrial business is not a quick process. It takes a lot longer than building an app. It has been harder than expected but we have come a long way in 13 years. A lot of other companies have tried and failed to do what we do. Nick has done something very clever in making a reliable flat sheet out of plastic deemed unrecyclable
The UK is not set up for industrial innovation in quite the same way as IT innovation.
What does innovation mean to you?
It is finding a new and better way of doing something. It is not just an idea it is actually taking an idea and making it a practical new system, process or product that changes the way something is done. Some people think it is just thinking of new ideas but this is only a small part. A commercial innovation is an idea that gets made a reality and has economic value. For it to be a business it has to tick all those boxes.
Innovation is not a single moment. It can be evolutionary or revolutionary. It can be changed slowly or a jumping step change. Initially our innovation was revolutionary, and it has been improved ever since.
Nick loves any new challenge. We find time as and when to develop new products and ideas.
How hungry is the built environment for innovation?
They recognise they need to change, but only in principle. I have been pushing our boards in industry for three years now and being open to the idea of change is bigger than it was. The sad reality is they operate on thin margins with lots of pressures on them – sustainability not being one of those pressures. Essentially it is about price and not changing the way things are done; Our product is disruptive and requires change.
Just look at the boards for HS2 at Euston where a forest has been cut down, transported around the World to use once, and landfilled. They could have used local waste plastic and re-used the boards further up the line.
What needs to change to help encourage more innovation?
A lot of the recent changes in people's attitude has been brought on by regulation or the prospect of regulation. People are much more interested in the lower CO2 content of Storm Board than the fact it uses recycled plastic as they are more judged on this.
What is driving the changes in behaviour is legislation. The other thing that will drive change that I think is happening is a levy on single use materials in building construction. This would be huge for us.
What are the biggest challenges you have faced as a start-up?
A lot of start-ups are well funded and have raised lots of money with a huge runway. A lot of start-ups are online businesses that are all about growth. We have not operated like that as we are an industrial technology.
Our biggest challenge has been resourcing. We don't have the funding for a big marketing team for example which is a challenge. A lot of our budget was spent on product development.
Another challenge is that the clients we are fostering relationships with are large and operate on glacial timescales. This is a big challenge with the construction sector. We want to be able to have a conversation and get a sale in 3 months, but with these companies it takes a year. It can happen more quickly but usually there are lots of stages that have to go on behind the scenes.
What's your advice for new innovators and start-ups in the built environment?
The importance of knowing people is huge. A big challenge we faced is none of us worked in construction beforehand. You do need to put the time in to get to know the right people in construction. Supply Chain Sustainability School has been great; UKGBC has also been good as well as Future Build. It is a very sociable industry and people are open to meeting new people and hearing about new things. I would definitely say get out there and meet people. It is quite relationship based.
What's next for your company?
We have created a re-manufacturing hub in Hull and doubled capacity. Over the last three years we have established that our technology works. We want to scale up our sales ambitions with the evidence we have achieved to date. We are talking to retail players and big construction firms about developing more serious relationships. If these go well, the focus will be delivering on these orders and scaling up our factories.
We also want to use our technology to make more than just panels, for example pallets. Lots of people have tried this, but others were not able to use cheaper unrecyclable plastics like we can.
Mostly our boards are for temporary uses due to the fire rating. We do have examples of our boards being used on SIP panels. There might be big news happening in the second half of this year on those lines if we can get the boards to take enough non-flammable materials.