Report on nature-based solutions for the climate emergency published
The IGNITION project has published its first report for businesses, titled 'Nature-based solutions to the climate emergency: The benefits to business and society'.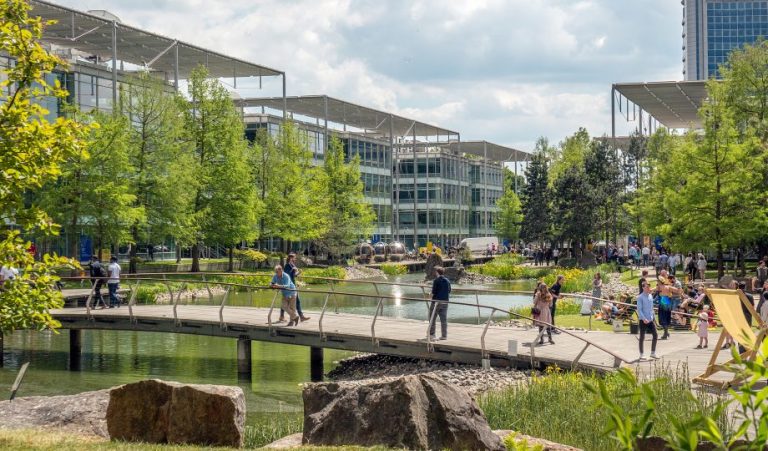 The report provides organisations with the data they need to make informed decisions about the types of urban nature-based solutions (NBS) available to them and how these can help meet sustainability objectives to benefit business, society and the environment. It highlights the benefits of using NBS across the built environment and aims to inspire confidence in business leaders and investors to increase the use of NBS.
The information in the report is based on key findings from research conducted by the project team into the vast quantity of available scientific literature on NBS.
This report presents five different NBS with their numerous benefits collated into one place and shows how all five have a vast multitude of economic, social and environmental benefits. Key findings include that on average: sustainable drainage systems (SuDS) retain 60-72% of rainwater run off; street trees reduce air temperature by 3˚C; green roofs and green walls result in energy savings of 6.7% and 8% respectively; and urban parks and green space increase property value by 9.5%.
The full detail of this research is stored in the NBS Evidence Base.
The report was produced as part of IGNITION, a ground-breaking project with the aim of developing innovative solutions for Greater Manchester's natural environment. The project is backed by €4.5 million from the EU's Urban Innovation Actions (UIA) initiative, and brings together 12 partners including Business in the Community, City of Trees, Environment Agency, Groundwork, Manchester City Council, Salford City Council, UK Green Building Council, United Utilities, University of Manchester and University of Salford.  The aim is to develop innovative financing solutions for investment in Greater Manchester's natural environment. This investment will help to build the city region's ability to adapt to the increasingly extreme impacts of climate change.
Alastair Mant, Head of Business Transformation at UKGBC said:"An increasing number of building developers and owners are setting ambitious targets on carbon reduction, climate resilience, and increasing biodiversity. The data in this report illustrates how nature-based solutions can help achieve all of these, as well as provide social and financial benefits. I hope this report, and the detailed evidence base that underpins it, enables all those in the property and construction value chain to use more nature-based solutions in the projects they are involved with, be it in new construction or the improvement of existing assets."
Sam Evans, Environment Programme Lead at GMCA said:"We are all aware of the value of having nature in our lives. The IGNITION evidence base brings together a vast amount of data that puts numbers on that value and supports the case for nature-based solutions across the built environment. This business report gives a vital snapshot into the stand-out statistics found in the evidence base, inspiring confidence in business leaders and investors to increase their use of nature-based solutions to deliver greater outcomes for business, society and the environment."
Amanda Skeldon, Campaign Manager, BITC. Stakeholder & Communications Technical Lead for the IGNITION project said:"Nature-based solutions have huge potential for business, and we hope this report highlights how nature can be harnessed to satisfy a multitude of impact areas, from creating climate and wellbeing resilience to improving local economic growth and supporting biodiversity. The report provides key evidence and understanding for organisations to build business cases for nature-based solutions."
-ENDS –
Download 'Nature-based solutions to the climate emergency: The benefits to business and society' here.