Launch of new initiative to drive Conservative Party climate action
A new group promoting greater action to tackle climate change within the Conservative Party, Tories for Climate Action, has held its launch in Parliament; with the event held in association with UKGBC.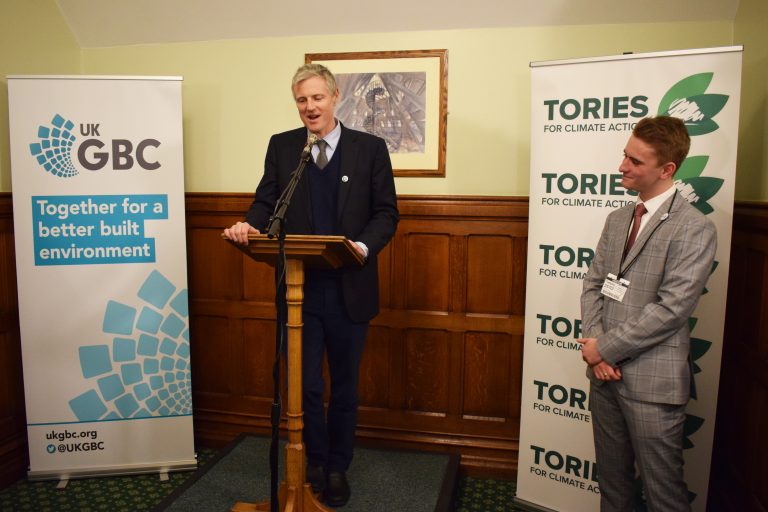 On the 25th February a new group of Conservative party members and activists advocating for greater action on climate change held its official launch in Parliament.
The launch event was held in the House of Commons sponsored by the office of Andrew Bowie MP and in association with UKGBC. The event featured key contributions from Andrew Bowie MP, Julie Hirigoyen, Chief Executive of the UK Green Building Council, Sam Hall, Director of the Conservative Environment Network, Lord Duncan of Spingbank and Lord Zac Goldsmith of Richmond Park, Minister of State.
In her speech, UKGBC's Julie Hirigoyen highlighted the huge opportunity that decarbonising the built environment industry represents and called on MPs and party members to take bold, meaningful and decisive action on the climate crisis.
Tories for Climate Action is a new network seeking to drive ambitious action on climate change within the party. It aims to promote policy solutions through sharing best practice across its membership and advising members of Parliament. The group currently has over 300 members, an extensive network of Councillors and the support of members of Parliament.
Harry Nugent, Chairman of Tories For Climate Action said:
"Conservative governments have made welcome environmental progress in recent years, introducing our net zero target and the world-leading Environment Bill. However, with COP 26 around the corner, there is still much work to do. That is why we have launched Tories For Climate Action. We aim to share solutions and make the case for greater action on climate change across our network.  So far, we have been blown away by the level of interest we have received from across the party. Many Conservatives care deeply about the environment, and it is vital we make our voices heard. Only through government and industry working together; deploying practical, market-friendly solutions, will the UK be able to turbo-charge decarbonisation, and deliver on the substantial promise of clean growth."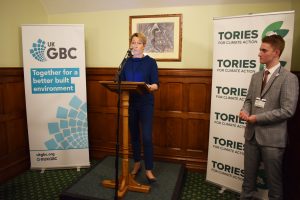 Speaking at the event, Julie Hirigoyen, Chief Executive of the UK Green Building Council said:
"We are pleased to be supporting the launch of this important initiative, which comes at a critical time for tackling the climate crisis. With COP26 rapidly approaching, this Government must lead from the front in demonstrating the UK's climate leadership. As approximately 40% of the UK's carbon emissions are attributable to the built environment, our sector clearly has a vital role to play
This challenge also represents a significant opportunity for the industry. The built environment is a powerful example of where we can reduce emissions and deliver economic growth, whilst simultaneously enhancing people's health and wellbeing. There are many encouraging examples of market leadership and solutions being developed, however there is still more to be done to ensure these can be fully capitalised upon, and the benefits delivered for communities across the whole of the UK. Tories For Climate Action can help ensure this message is heard and supported across the Conservative Party, strengthening Government's hand in bringing forward the policy needed to meet the UK's legally binding net zero carbon commitment."
View the TCFA press release here.