Circular development and net zero construction: a commercial office in the heart of Edinburgh
As part of our work to showcase innovative projects in Scotland, this week's blog focuses on Edinburgh One, a development in the centre of the capital.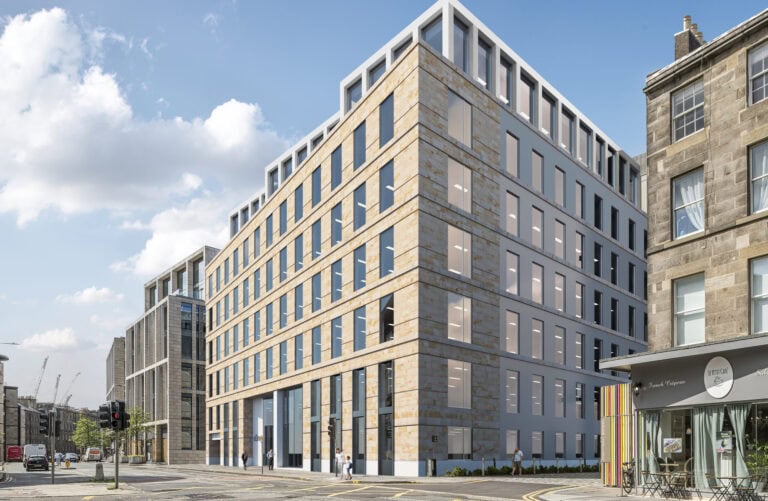 This blog is the first in a series of case studies from UKGBC Scotland, as we promote the innovative projects that members are working on across Scotland.  
Edinburgh One, located at 60 Morrison Street, is in the heart of Edinburgh's Central Business District. The proposed development will deliver 88,000 sq. ft. of brand-new workspace, with the aim of creating a city centre community business hub, that will have sustainability at its heart.
The building was selected as a sustainable re-development by Odysseus Capital Management due to the nature of its construction in 2000. Typically, buildings were designed and built to hold more staff and infrastructure than is typical today. Therefore, it provided a perfect opportunity to employ a Circular Development strategy and target Net Zero Carbon in refurbishment (construction) and in operation.
'It is evident that as the property industry strives to meet NZC targets, the way we construct and operate buildings must change,' reflected Rhu Wishart, Asset Manager at Odysseus. 'With the Edinburgh One project, the ability to promote circular economy principles and change the perception towards outdated buildings has been at the heart of the business plan.'
Through the principal of circular development, large proportions of the concrete and steel frame have been retained, whilst only utilising a comparatively small amount of new materials in order to create nearly 40% more workspace. This has led to a market leading Upfront and Whole Life Carbon Assessment result which far exceeds both London Energy Transformation Initiative (LETI) and RIBA 2020 targets.
Specific ways in which the project achieved these carbon savings:
Following UKGBC's

Net Zero Carbon Buildings Framework definition,

undertaking an embodied and whole-life carbon assessment from early in the design stage as well as ensuring it's fully electric – and therefore doesn't rely on fossil fuels for power.
Retaining the existing structure and using low embodied carbon materials for further development. The carbon impact for the new materials reflects approximately a 62% reduction in carbon compared to a new build office.

A Building Management System that allows both owners and tenants to monitor and reduce energy use and waste.

Planning has been approved for the addition of 48 solar PV panels for the roof, so that the development can create its own renewable power.
As well as carbon savings, the project considered both its position within the community and its ability to adapt to our changing climate. The development will have a bio-diverse green roof system, which is designed to reduce the damage heavy rain or storm events may have on the office. It's position in Edinburgh's central business district means it will also be the perfect development for promoting green travel – with charging points for both electric vehicles and electric bicycle charging points. Particularly to facilitate cycling, they're incorporating excellent end-of-journey facilities like showers, secure bike storage and lockers.
Of course, as with any project there are lessons to be learnt that can lead to the improvement of other net-zero developments along the line. For Edinburgh One, it was important that clear sustainability targets were implemented from the very beginning. Indeed, ensuring all the solutions to possible problems were considered early on had a big positive impact. For example, the constraints of the site in the city centre meant that materials that were due to be reused needed to be removed, stored and returned which is both costly and time sensitive. As many find when following circular principles, there were issues with certification and guarantees.
Overall, this project is part of Odysseus Capital Management's aim to be a leading developer in the response to the climate emergency and it demonstrates what can be achieved when teams commit to a net zero development Along with Odysseus, key project partners have been JLL, Dobson Scotland, CDA Group Architects, Atelier Ten, Route2, Axiom Project Services and Christie Gillespie.
Janey Douglas, Head of Sustainability UK Capital Markets JLL commented on the project; "As investors transition their portfolios to target more sustainable assets and occupiers seek to meet their NZC and wider Sustainability goals, there is increased demand for high quality real estate which can aid in delivering these ambitions. There is currently a critical under supply of stock that can meet these requirements, and JLL Research has found that the market would need to re-develop existing office stock at approximately 5x the pace it currently is to keep up with demand. It has been fantastic working with Odysseus Capital Management on this project and see them respond to this market change with a sustainable design focussed on circular economy principles."