AirEx
Agnes Czako, Co-founder & Managing Director at AirEx talks to UKGBC about what its like to be an innovator in the built environment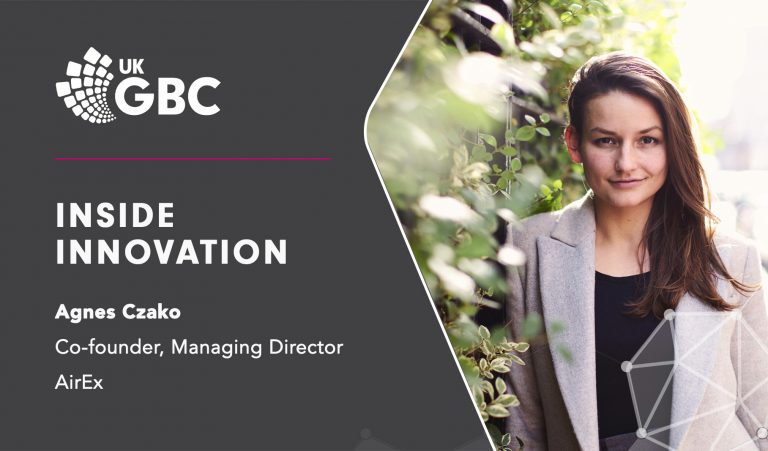 What is your elevator pitch?
Poorly insulated, leaky, energy inefficient buildings require more energy to heat, and that is resulting in more operational carbon emissions. In the UK, domestic homes are responsible for about 22% of greenhouse gas emissions (BEIS, 2019), and although we're well aware of this, new research highlights that a fairly large proportion of a home's energy waste can be caused by airbricks[1]: air ventilation holes that provide natural air flow, typically found at sub-floor level or room level.
This may seem like a small problem, but it has a huge impact at an aggregate level. At the same time, if occupants are blocking these airbricks permanently – which happens a lot – it can cause condensation and health risks. In fact, the NHS could save somewhere in the region of £1 Billion per year (BRE, 2011), purely by fixing damp problems and preventing related health issues. Social landlords also bear the cost of fixing damp problems and completing repairs.
We therefore need to balance the two contradicting issues of energy efficiency and air exchange. This is what our product does. AirEx is an IOT-enabled smart ventilation control, which is essentially an intelligent airbrick that replaces traditional airbricks like-for-like.
AirEx units have built-in sensors so they can monitor and analyse the surrounding environmental conditions, and its cloud-based algorithms automatically regulate the airflow.
The AirEx system is helping to bridge the gap in the building retrofit industry by being a smart connected solution which is simple and straight forward to install.
How did you get to where you are today?
About 9 years ago I joined an energy accessor organisation as a lead accessor, with responsibility for running the delivery of about 30,000 fuel poverty assessments in some of the most vulnerable areas of London. Through these energy audits we accessed which households are suitable for what type of energy efficiency interventions and how they can access grants.
This experience gave me the insight into the dual challenges that persist between cold and damp homes, especially in homes of those who otherwise cannot afford to pay their energy bills. This is where the idea came from.
It all started with an Innovate UK R&D grant project – as per usual for most start-ups – called Innovate UK Energy Gamechanger Programme. Our involvement in this programme allowed us to build the first few prototypes and test the hypothesis with the support of an academic partner and we immediately rolled onto an accelerator programme called Sustainable Accelerator, ran by Sustainable Ventures.
This was a fantastic 12 month programme designed for early stage clean tech start-ups and really helped us gain early traction. Since then, the company has raised just over £1.5 million public and private sector investment and we've grown the team to 6 people, with plans to expand further. We've secured significant revenue traction with large energy companies and some of the early adopter housing associations.
What does innovation mean to you?
The novelty of innovation could come from a new way of thinking or a new business model; it doesn't necessarily have to be tangible. I think the critical part is that innovation occurs every time someone solves a crucial problem in a slightly different way. But what is key here is that it has to be a real problem and a real market need and the solution has to be scalable.
How hungry is the built environment for innovation?
The built environment is an interesting sector. It very much needs innovative solutions and it craves innovation. And if the sector is to reduce its carbon emissions, it definitely needs to change.
Unfortunately the sector is famous for often being very reluctant to adopt innovation without prior evidence. For example, industry certifications and approvals. In a way these systems are somewhat old fashioned and risk averse. People find it much more convenient to stick to the old ways and it's not easy to innovate, but we absolutely have to.
What needs to change to help encourage more innovation?
One of the biggest barriers is industry approvals and certifications. It's incredibly costly for an early stage, cash-strapped start-up to secure the necessary paperwork and sometimes these standards are slightly outdated.
New innovative technology may not necessarily fit within any existing standards and yet it's been forced into one. So often the standards themselves have to change and keep up with innovation, which can be a very slow process.
I think Government could and should encourage certification bodies to be more agile to adopt innovation and potentially tailor their standards to innovation.
I think more importantly we need to educate the whole sector. I know its cliche to say, but it's very true. We need to be aware about what else is out there and we need to increase confidence that it is ok to use new solutions.
Sharing case studies is the best way to share new solutions but it's very hard to find a suitable platform to do this. This is where we hope UKGBC will be able to help. It could be a fantastic platform for us to raise awareness.
What are the biggest challenges you have faced as a start-up?
From our own experiences and from talking to other start-ups in the sector, one of the key difficulties we find when working with larger organisations is it's often difficult to pin down and identify who is the decision maker and which department we should be talking to. Often it's the case that we need to talk to a combination of various different departments and stakeholders within sustainability, innovation or asset management; it's usually a crossover.
As we are a start-up we do have a lack of resources. Usually there will be just one person from our organisation talking to six or seven people from another company. This can really alter the dynamics of a meeting. If there is any way to support start-ups with navigating this challenge and support them in identifying who is the relevant person or key decision maker that would be really helpful.
Do you have any advice for innovative start-ups working in the built environment?
Try to get real life trails as quickly as possible. Don't worry if the product needs more time to develop or if it's not the final version, because development is continuous. It's critical to have real life feedback as early on as possible. That is why we went for the energy gamechanger programme in 2016.
What's next for your company?
We always have ideas for expanding the product portfolio but this year we will be focusing on strengthening our relationships with social landlords and securing some substantial pilot trials with customers. Basically, we are gearing up for scaling this year.
Our initial focus has been on social housing because of the scale and access to large contracts. However, our technology is perfectly suitable in other market sectors such as private homeowners.
Moving forward we will also be looking at commercial buildings. Our technology is very much a retrofit solution, so we are not targeting new builds, but within retrofit it is suitable for both residential and commercial buildings.
If 2020 was about resilience (as a buzzword so often used to describe 2020), then I think 2021 will be about new opportunities and scale.
—
[1] See AirEx's Independent Validation Report here: https://static1.squarespace.com/static/593fbfcbe4fcb5c4586518c0/t/5fd8a5888f52e72873e17a83/1608033675216/AirEx_ECO+DA_Trial_Report.pdf