A year of UKGBC Scotland, what have we achieved?
UKGBC's Scottish Policy Advisor David Steen, reflects on what we've achieved in Scotland – a year since the launch of UKGBC Scotland at COP26.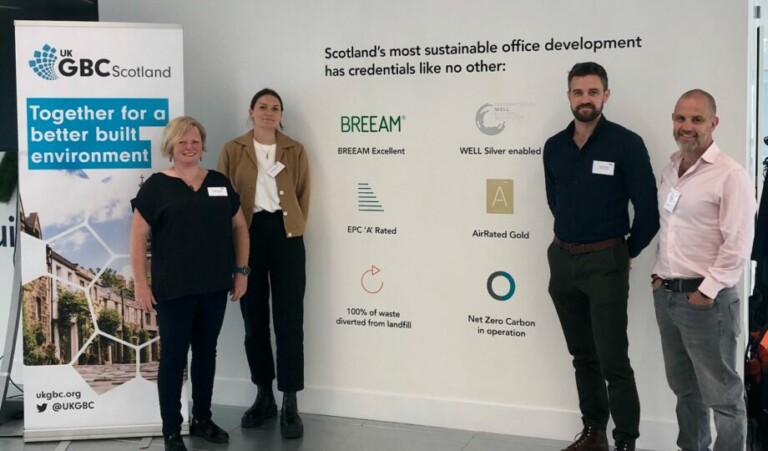 UKGBC left COP26 with a sense of hope and a renewed drive to see transformational change in our built environment. Surrounded by world leaders and globally significant conversations, we took the opportunity to launch both our Net Zero Whole Life Carbon Roadmap for the Built Environment, and UKGBC Scotland, bringing a specific focus on Scottish policy engagement through our growing network of Scottish industry. As we now watch the proceedings in Sharm El-Sheikh for COP27 a year on, we wanted to reflect on what's happened since the launch of UKGBC Scotland and what we've achieved as a network.
It's fair to say that the last year has been eventful. With collective attention currently turned to economic instability and recessionary risk, it can be easy to become discouraged at the pace of progress towards a truly sustainable built environment. With recent studies showing that the world is on the brink of five key climate tipping points, it's clear that more urgent action is needed on both mitigation and adaptation.
Green Heat and Energy Efficiency
As ever, we remain focused on creating positive change where we can, and indeed there is much to celebrate in Scotland. In the year since we launched, the Scottish Government has remained committed to its ambitious climate targets and detailed how these ambitions will impact the built environment in the Heat in Buildings Strategy last autumn. Over the past year we've worked with officials and elected representatives to advocate for strong, workable policy and regulation that lays a clear pathway for the industry to take towards net zero by 2045. We're calling for decisive action to be taken through the upcoming Heat in Buildings Bill, to give clarity, leadership, and direction for the coming years as we work to decarbonise our homes and buildings.
We've been encouraged by the Scottish Government's willingness to engage with industry stakeholders in a collaborative way. Throughout 2022 we've used our seat on Minister Patrick Harvie's Green Heat Finance Taskforce to advocate for collective action and innovative solutions to help scale up and provide new financing mechanisms for industry, homeowners, and others, to unlock decarbonisation of our buildings. As part of this programme we brought members together with representatives of the Taskforce for a roundtable discussion on the opportunities and challenges of financing retrofit in Scotland's commercial building stock.
Following on from this, we also recently accepted a seat on the sector delivery group of Heat & Energy Efficiency Scotland, the Scottish Government's new agency working to deliver on the promises of the Heat in Buildings Strategy. Announcing the new agency, Michael Matheson, Cabinet Secretary for Net Zero & Energy, said that "delivering on our Heat in Buildings Strategy will be transformational and we must work collaboratively – across public and private sectors, parliament, governments and communities – to realise the benefits that warmer, greener homes and buildings will bring for everyone. Heat & Energy Efficiency Scotland will play an important role in co-ordinating this huge transition and helping ensure it is a just and fair one." We look forward to engaging with our Scottish membership as we contribute to this work.
Commercial Retrofit
Commercial retrofit remains a core focus of our work in Scotland, and central to our partnership with Built Environment – Smarter Transformation, which we signed this year. In October we cohosted a workshop as part of BE-ST Fest 2022, bringing our networks together to think collectively about the pathway to decarbonise commercial buildings. Tackling questions around policy drivers, market demand, design, and skills, the workshop was a positive demonstration of the power of collaboration, resulting in outputs shaped by a diverse cross section of industry stakeholders, that will inform our advocacy and activity on commercial retrofit over the coming months.
Of course, we wouldn't be able to achieve any of this without our 100+ UKGBC Scotland members who work with us on all these projects and create an inspiring network to be a part of. Therefore, we'd like to take this moment to thank them for their ongoing commitment and leadership. They truly are the drivers of our work and allow us to be the voice of the sustainable built environment in Scotland.
Find out more about UKGBC Scotland and how you can get involved here.
Want to meet the UKGBC Scotland network? Come to our Winter Social on 23rd November in Edinburgh! Sign up here.