Leadership Lite
Lead transformational change within your organisation with our on-the-go leadership course designed for busy built environment professionals at all career stages.
UKGBC's Leadership Lite is a three-part package, allowing built environment professionals, in all stages of their careers to continue their journey to transformational leadership.

Capturing the key highlights and ideas from UKGBC's impactful sustainability leadership programmes, Leadership Lite conveys the key concepts and take-aways required to deepen understanding, expand thinking and drive behaviour change, empowering participants with the knowledge and skills to steer and lead progress, whatever their job title.

Leadership Lite content is delivered via three modes to suit all learning styles, enable peer-to-peer discussion and embed and sustain learnings for the long term.
Core content
The Sustainability Leadership Companion: an easily accessible written guide addressing the case for action, leaders' purpose and key attributes, innovation, storytelling, systems change, and more. It delves into what is needed at organisational level, giving practical examples and cases at project and personal leadership level. The Companion has been designed for readers to dip in and out, ready to provide shots of inspiration at any given time.
It is designed to:
Make key sustainability leadership insights more accessible
Help as an explainer, what sustainability leadership is, and what is needed for a different future
Unpack the complexity of systems thinking, and innovation in the built environment
Help individuals explore the key behaviours needed for effective sustainability leadership
The Sustainability Leadership WhatsApp course: shaped with the busy professional in mind, this course delivers impactful learning to the palm of your hand. The six-week digital course explores core sustainability leadership concepts through compact and manageable learning modules, each summarised with practical actions that can be taken as next steps. Learnings are deployed through WhatsApp messages, with a 1 hour per week time commitment for reading and reflection exercises, and UKGBC facilitators helping guide participants to share thoughts and experiences.
It is designed to:
Provide light touch nuggets of learning for busy leaders
Act as an aide memoire – things to think about, triggers for acting differently, practical tips
Inspire and re-energise, reassure and equip those that use it with activities to explore their own positioning to the topics covered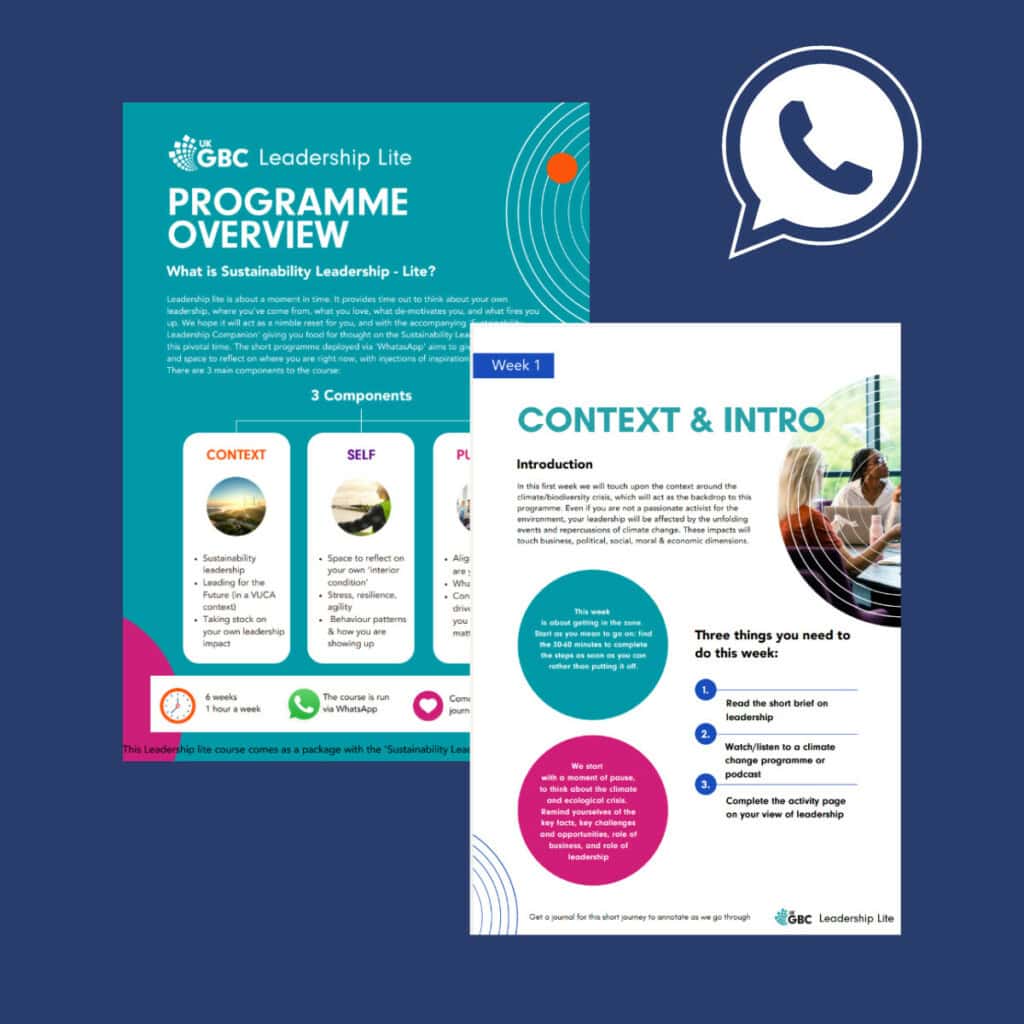 3. Online group calls: these check-ins provide the opportunity for delegates to meet each other and the course facilitators to discuss core themes. The calls will be at the start, mid-point and the end of the programme and will bring together the learnings and reflections from the course into a lively discussion-based session.
They are designed to:
Encourage reflection on personal leadership styles and peer to peer learning
Enable participants to discuss challenges to sustainability leadership with peers in a non-competitive space
Who is Leadership Lite for? 
Anyone interested in sustainability leadership.
Every one of us has the potential to act as a leader within our spheres of influence, regardless of position or job title. The Leadership Lite pack will support this.  It is aimed at you as a company, you as a professional, and you as an individual. Leaders at all levels, across in the built environment.
When does the course take place?
The Companion is available in PDF format on demand. After signing up you will receive an automatic ticket email from Eventbrite as confirmation which contains the link to the PDF Companion.
The WhatsApp course runs for 6 weeks. Please note, that, other than the check-in calls, the course is not timebound and participants can engage with the content at whatever time suits them.
Hear what our past participants have to say
I found Leadership Lite an interesting course to consider my leadership beyond net zero and sustainability knowledge and think more broadly about other attributes and skills. I appreciated being able to complete the course at the times that worked for me and taking the time to reflect on behaviours when work is busy.
I've learned the importance of recognising that everyone needs to be a sustainability leader and how can we encourage and empower all. I have been motivated, energised and ready to swerve into action.
I am left feeling empowered, with a confirmed sense of direction and best practice examples to follow.
Featured
Past course
Lead transformational change within your organisation with our on-the-go leadership course designed for busy built environment professionals at all career stages.
Past course
Lead transformational change within your organisation with our on-the-go leadership course designed for busy built environment professionals at all career stages.
Future event
An online meeting with the UKGBC team behind our latest publication Renewable Energy Procurement Version 2
Future event
Join UKGBC CEO, Smith Mordak and partners Hoare Lea and BCO for a lively panel event discussing the challenges and opportunities of climate resilience in Bristol.
Future webinar
Join us for a member-exclusive event to hear UKGBC's analysis of the Government's Future Homes and Building Standard consultation and share insights with other members. The event will inform UKGBC's response to the consultation and be a chance to get involved in UKGBC's campaign for genuinely modern building standards.