COP15: Nature as a service; Nature as a lifeline
Senior Sustainability Advisor, Kai Liebetanz, reflects on what COP15 means for the built environment industry and what actions we can all take moving forward.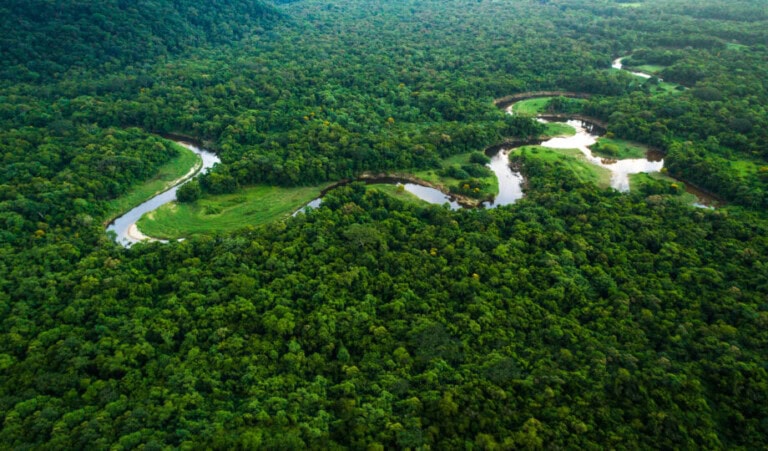 After more than two years of delays, COP15 for the Convention of Biological Diversity (CBD) is happening in Montreal, Canada, and many are hoping for biodiversity to finally have its 'Paris moment'. While climate change and carbon emissions have received a fair amount of international and public attention in recent years, biodiversity has been struggling to spark the same level of interest and time in the spotlight.
Climate and biodiversity are linked
The climate and biodiversity crisis are inextricably linked. Climate change is a key driver for biodiversity loss. As emissions heat up our planet and turn it into a world of unpredictable but more extreme weather events, natural habitats are threatened.
At the same time, the loss of this biodiversity is linked to the increase of carbon emissions. Take deforestation for example – as swathes of forests are cut down for grazeland or raw material, this can have a double impact; removing a key carbon sink for the atmosphere's carbon as well as potential burning of said raw material for fuel, releasing its captured carbon back into the atmosphere.
Addressing the climate and biodiversity crisis together offers many synergies and opportunities to maximise co-benefits. But although there is a strong link between climate and biodiversity, we must not make the mistake and see them as one and the same. Solving the climate crisis won't solve the biodiversity crisis. In fact, by seeing everything through a climate lens, we are massively oversimplifying the problem – and its solutions.
While climate change is a major threat to biodiversity, there are many other factors at play. Overexploitation of natural resources and unprecedented transformation of landscapes have accelerated the decline of biodiversity. While we are busy building our net zero building, we are consuming our natural world at a dizzying pace, overshooting our biological capacity at every turn.
From a very selfish perspective, we ought to change course immediately. If only because of the simple fact that our economy depends on it. As the World Economic Forum states, 50 percent of our economy is directly or indirectly linked to nature, even though it is hard to imagine any viable economic activity without functioning ecosystems in place. But apart from the economy, we are consuming the basis of our own existence. Our natural world is the basis for all life on earth, including humans. Nature provides water and food, regulates our climate and pollinates our crops, and offers recreation. Without intact ecosystems, these 'ecosystem services' will cease to enable our life as we know it.
But nature is more than a service provider. We've got it the wrong way around – rather than nature supporting our human economy, our economy is deeply embedded in nature. If we recognise that, we can start thinking about a way out of this crisis. One that plays by the rules of nature, rather than by the same kind of thinking that got us into this situation in the first place.
What do we need from COP15?
Two main goals take centre stage at the negotiations in Montreal. The first is to halt global biodiversity loss by 2030 and reverse it by 2050. The second is to protect 30% of global land and seas, known as 30×30. Key will be to protect the right areas, focusing on biodiversity hotspots rather than just maximising area. Currently, about 15% of land and 7.5% of the ocean are under protection.
Apart from these efforts to protect what's left and regenerate what we've already lost, we need to change the way we do business. There is no technological solution to the biodiversity crisis, so we can't innovate our way out of this crisis. Instead, we need to address the core problem of over extraction on a planet with finite resources. Mandatory disclosures of nature-related risks and impacts can be a first step into this direction.
When we think about the impact the built environment has on biodiversity, many might find the solution in urban greening. However, only 1 percent of land worldwide is used for buildings and infrastructure, so simply greening our cities, while vitally important for many reasons, will not be sufficient. We need to assess our embodied ecological impacts, looking at broader impacts on nature globally, be it through supply chains, investments, or pensions.
What actions can you take?
But while we are hoping for a global breakthrough in Montreal, let's not forget about the changes we can already implement.
Firstly, businesses should incorporate nature into their sustainability strategy. This should align with emerging recommendations of the Taskforce for nature-related financial disclosure (TNFD). For this, it will be key to engage with the supply chain to identify nature impacts, as they will mostly lie outside of the core business and happen at the resource frontier.
And finally, avoiding new buildings and the use of virgin materials wherever possible and prioritising reuse and refurbishment will be crucial to limit our resource use and start operating within safe limits for our natural world. Adopting circular economy principles will help keep materials in the loop and enable deconstructability to allow for the future use of the building's components, alleviating the excessive demand on the resources of our natural world.
Kai Liebetanz is a Senior Sustainability Advisor in the UKGBC Resilience and Nature Team. He was the project lead on our Value of Nature Based Solutions report and is currently working on the Embodied Ecological Impacts project.