UKGBC announces 2020 Future Leaders
The UK Green Building Council (UKGBC) has today announced the 2020 cohort of its prestigious Future Leaders programme.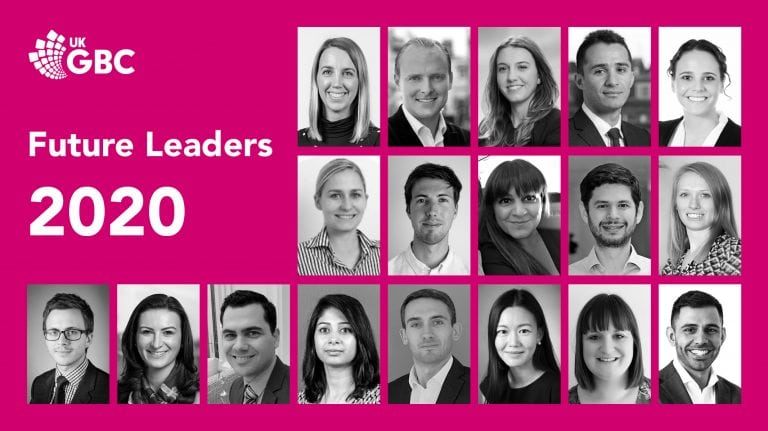 Now in its seventh year, the 5-month programme brings together high-potential professionals from across the built environment industry to take part in a unique programme of leadership and innovation. It kicks off with a two-and-a-half-day innovation workshop in London at the end of January, followed by a series of innovation webinars, and a residential retreat in March, culminating in 'Festival of Ideas' with industry leaders in June. The programme takes participants on a journey to develop the capability and skills to drive change and sustainability, while progressing and boosting confidence in their own individual leadership journeys.
Future Leaders provides a forum for tomorrow's leaders to confront critical issues facing the industry, including the climate crisis, while working collaboratively to address them through the development of innovative ideas to inspire the radical transformation of the built environment. Graduates from the programme are able to join the exclusive Future Leadership alumni network, which brings opportunities for continued professional development and access to a growing number of thought-leaders right across the built environment value chain.
Our 2020 Future Leaders:
Hannah Farahar, Development Project Manager, AECOM
Claire Burgess, PR and Communications, Argent (starting from March 2020)
Julia Messenger, Sustainability Advisor, BAM
Matthew Lindsay, Project Manager, Biotecture Ltd
Leila du Toit, Sustainability Manager, Canary Wharf Group plc
Ann Xu, Analyst, CBRE
Richard Vockins, Sustainability Consultant & ESG Programme Manager, CBRE
Simon Perks, Development Manager, The Crown Estate
Richard Sheppard, Principal Engineer, Cundall
Mariya Tsvetkova, Associate, FORE Partnership
Amanda Sheppard, Asset Manager, Grosvenor Britain & Ireland
Charlotte Sythes, Development Manager, Grosvenor Britain & Ireland
Drew Pinazza, Head of Public Spaces, Grosvenor Britain & Ireland
Erion Thaci, Project Manager, Grosvenor Britain & Ireland
Darren Pitts, Project Manager, Heathrow Airport Ltd
Swati Singh, BREEAM Manager, High Speed Two Ltd
Kate Donovan, Project Manager, Lendlease
Robert Taylor, Product Manager – Residential Heating, Mitsubishi Electric UK Living Environmental Systems
Sylvester Harker, Estates Manager, Retirement Villages
Karl Desai, Advancing Net Zero Projects Manager, UK Green Building Council
Charlotte Nye, Foundation Manager, Willmott Dixon
Elfrida Hamilton-Russell, Head of Learning and Leadership at UKGBC, said:
"We are very pleased to welcome this group of the built environment's brightest stars to Future Leaders 2020. With the climate crisis having rocketed up the agenda in the past year, there has never been a more pressing time to invest in the development of forward-thinking individuals who can reimagine and transform our built environment for the better.
"The 2020 cohort contains a fantastic mix of skills and experience and we look forward to developing and
challenging these stand-out individuals through our unique programme of leadership and innovation."
Applications for the 2021 cohort of Future Leaders will open in the summer. Applications are currently open for UKGBC's Change Accelerator programme, which gives middle to senior level business leaders cutting edge leadership insights alongside the opportunity to reframe their current business challenges and deliver meaningful change.
-ENDS-