Funding Partner ends on 31 Oct, 2023
UKGBC at Futurebuild 2024: Call for Partnership and Supporters​
UKGBC is returning to Futurebuild in 2024 and is calling on our members to support our mission and partner with us via headline or co- sponsorship packages.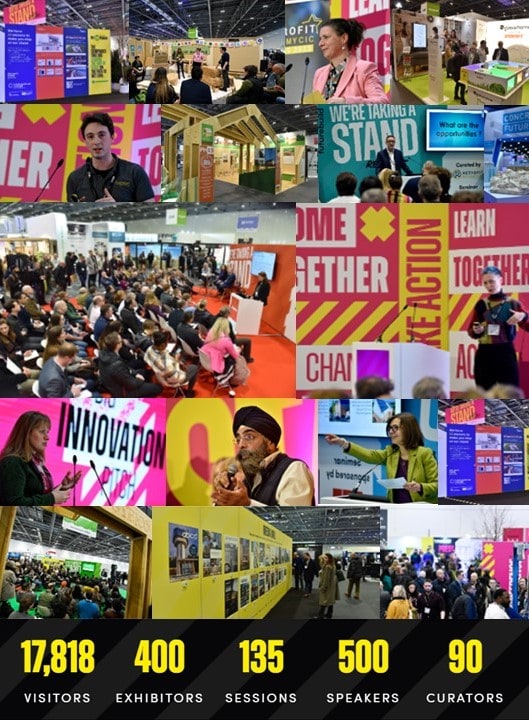 UKGBC is returning to Futurebuild in 2024 and is calling on our members to support our mission and partner with us via headline or co- sponsorship packages. UKGBC will occupy 45sqm of exhibition space next to the main stage, presenting the opportunity for our members to stand with us as we build support for a better built environment. With over 17,000 delegates expected, we plan to create a space to showcase just how collaboration will bring about positive change in the built environment as we race towards our collective net zero targets. UKGBC representatives will be featured in main stage speaker slots, host panels and provde a space where delegates can network and to learn more from us about collaboration. Our CEO Smith Mordak will also guest edit the Futurebuild e-newsletter in January 2024 (circa 40,000 recipients).
Futurebuild continues its mission in taking a stand for a better built environment through providing the stage for inspiring ideas, innovative solutions and knowledge sharing to drive sustainable construction and help our sector decarbonise at pace and scale. The exhibition brings together the entire supply chain to showcase, debate and understand the advancements in sustainable construction and the emerging technologies that will make net zero possible. The conference and exhibition showcase the best in products and materials and supports innovation helping to create net zero buildings faster, more safely and more efficiently with 75% of visitors discovering new innovations that support their sustainability goals.
Futurebuild and UKGBC's mission are closely aligned. Just like UKGBC, for over 16 years Futurebuild has driven the sustainability agenda and is more committed than ever to ensure our built environment remains on track to achieving our net zero goals. And just like UKGBC, Futurebuild convenes the entire supply chain – architects, housebuilders, developers, consultants, contractors, and manufacturers – to facilitate positive change – together. Over the three-day event, 17,000+ visitors are expected with 400 Exhibitors, 135 sessions on the main stages and seminar stages, 500 speakers and 90 curators.​
Futurebuild is renowned for being the influential leader when it comes to build environment trade events with a stellar line-up of distinguished speakers, including UKGBC CEO Smith Mordak, the best-in-class exhibitors and senior decision makers. 81% of visitors are managerial level or above and 80% of visitors are decision makers or have purchasing power.​
This presents a unique opportunity for members to support our stand at Futurebuild, with Headline sponsorship "UKGBC in Partnership with…" available for £10k + VAT and Co-Sponsorship packages "Supported by…" available for just £5k + VAT. For more information about our plans and the packages available, please get in touch before Tuesday 31st Oct with our Director of Membership, Mike Clarke.
​Partnership with UKGBC is an exclusive member benefit. Discover the impact you can have by joining our network here.